Press release
HRH The Earl of Wessex joins 21st birthday celebrations at Belfast Activity Centre
For His Royal Highness The Earl of Wessex's first engagement in Northern Ireland, he visited Belfast Activity Centre (BAC), Barnet Demesne in Belfast joining the celebrations of the organisation's 21st birthday.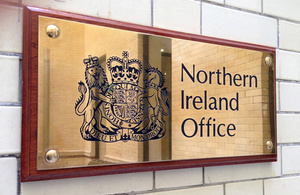 BAC began as a voluntary initiative in 1988 to support young people taking part in the Duke of Edinburgh's Award (DofE) through a BAC Open Award programme. It became an independent Northern Ireland charity in 1990 and currently works with 20,000 young people every year.
BAC core projects engage socially and economically disadvantaged young people. These include programmes to support disability access and participation, young carers, lone parents and their families and young homeless.
His Royal Highness was greeted by the Mrs Joan Christie OBE, Lord Lieutenant of County Antrim and went on to meet Glen Couser and Hannah Hamill BAC participants who accompanied HRH throughout the engagement.
In the Adventure Learning Park and cave chamber HRH met a group of visually impaired young people from the Royal National Institute for the Blind preparing for a cycling trip to Holland as part of their DofE Gold Award.
Nearby at the high ropes area HRH watched young people from Glenveagh Special School taking part in a number of activities as part of their DofE Bronze Award before meeting a number of Award participants and their parents.
HRH went on to meet a group of young people from Glenveagh Special Needs School who are undertaking their DofE Silver and Gold Awards and watched a simulated parachute jump by Glen Couser.
Moving inside The Earl met a number of staff representing BAC's projects including Young Carers, Lone Parents, Young Enterprise, Change your Future and other Open Awards.
In the Training Room, His Royal Highness had the opportunity to join BAC senior staff for discussions around BAC's 2021 vision and master plan for the restoration of the recently acquired Ardaluin House Outdoor Activity centre in Newcastle , County Down .
Later in the Conference Suite HRH listened to a few words from BAC Chairman, Tom Scott OBE and the announcement of the formation of the Charitable Limited Company and a new team of BAC Ambassadors.
During lunch HRH had the opportunity to meet around seventy guests and later Pamela Ballantine BAC Committee Member and Television Presenter, invited HRH to view a montage of newsreel footage about BAC over the past 21 years.
Tom Scott OBE went on to invited Ian McCluney a young BAC participant to present gifts of a waterproof BAC's jacket, a DVD of the newsreel footage and a ceremonial key to the building to His Royal Highness and invited The Earl to sign the visitors book.
Notes to Editors
HRH was greeted by the Mrs Joan Christie OBE, Lord Lieutenant of County Antrim and went on to meet:
Mr David Traill, Sheriff for County Antrim ,
Councillor Patrick Convery, The Rt Hon The Lord Mayor of Belfast ,
Mr Tom Scott OBE, Chairman, BAC,
Mr Stephen Dickson, BAC Chief Executive Officer,
Mrs Nicola Campbell, BAC Senior Project Worker,
Mr Glen Couser, BAC Participant
and
Ms Hannah Hamill, BAC Participant
His Royal Highness last visited Northern Ireland 8/9 June 2010
For more information about Belfast Activity Centre visit: www.belfastactivitycentre.com
Published 17 February 2011