HRH The Earl of Wessex attends the launch of the Duke of Edinburgh's Award
Details of a Duke of Edinburgh's Award event on the 'Creating Brighter Futures' strategy at Hillsborough Castle.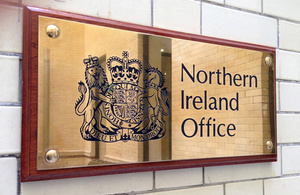 The Duke of Edinburgh's Award Northern Ireland Strategic Plan 2012-17 sits within the D of E's UK-wide strategy and outlines how Northern Ireland will contribute to the national strategic objectives for growth, and completions, reaching disadvantaged young people and increasing the broader community experiences for young people.
At the foot of the stairs The Lord Lieutenant of County Down, Mr David Lindsay presented the Chair, Northern Ireland Ambassador Network, Duke of Edinburgh's Award Dr Robson Davidson, D of E's Director, Kate Thompson, Development Officer, Peter Topping, and Office and Communications Officer, Julie McGimpsey.
In the Throne Room, HRH met groups of invited guests representing the following areas - Duke of Edinburgh's Award Network Ambassadors and Youth Committee, Education and Library Board staff, representatives of Licensed Organisations, Partners, Celebrity Ambassadors and Funders and the volunteers receiving long service certificates.
Following a few words of welcome, Dr Davison gave a brief presentation on the Duke of Edinburgh's 5-year Award Strategy for Northern Ireland before inviting HRH to say a few words.
Later, HRH was given an overview on the role of the Award volunteers receiving Long Service Certificates before being invited to present approximately thirty Certificates.
Dr Davison spoke a few words of thanks and invited Ms Rebecca Murray, Chair, Duke of Edinburgh's Award Youth Committee to present HRH with a gift of a bound copy of the Northern Ireland Strategy document.
Prior to farewells and departure HRH signed the Hillsborough Castle visitors' book.
Published 12 February 2013