HRH The Duke of Gloucester Visits the Royal Ulster Yacht Club (RUYC) Bangor Co Down
Visit to Royal Ulster Yacht Club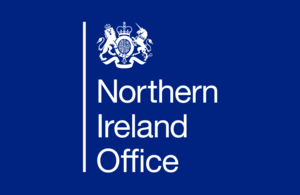 HRH The Duke of Gloucester visited the Royal Ulster Yacht Club (RUYC), Bangor, Co Down. HRH is the Commodore and shows great interest in Club activities.
The Ulster Yacht Club, formed in 1866, was granted a Royal Warrant in 1869. In 1953 Her Majesty The Queen became Patron of the Club. A strong link exists between the Royal Ulster Yacht Club and the America's Cup, with Sir Thomas Lipton's five challenges between 1898 and 1930. In 1970 the Club provided a trophy in his memory which is presented, on the occasion of each challenge, to the Yacht Club which has won the Challengers races and is about to race for the America's Cup.
Upon arrival HRH was greeted by Lord-lieutenant of County Down, Mr David Lindsay. Upstairs HRH met the RUYC officers and their spouses who were presented by Dr Stanton Adair, Vice-Commodore, Royal Ulster Yacht Club, who accompanied HRH throughout the engagement.
In the Lipton Room HRH heard a brief presentation on Sir Thomas Lipton by Michael McKee, Club Historian and Gordon Finlay, Club Archivist, and viewed the Club's Silverware and Trophies.
In the Gloucester Room HRH met RUYC General Committee Members and their partners, before proceeding to the Strangers' Room where HRH went on to meet RUYC Past Flag Officers and their partners.
Later in the Lounge during a buffet lunch HRH met one hundred and fifty current members.
Dr Adair said a few words before inviting HRH to present a gift of an engraved crystal vase to long serving member of staff Heather Hamilton. Dr Adair then invited HRH to say a few words and to sign the Visitors' Book.
Before departing the Club HRH met a number of key RUYC staff.
Published 24 November 2011