News story
HRH The Duke of Gloucester Attends Annual St Columbanus Celebration at The Clarion Hotel, Carrickfergus, Co Antrim
Annual celebration of the life of Columbanus hosted by The Ullans (Ulster Scots) Academy.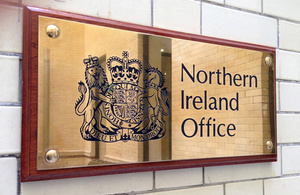 HRH The Duke of Gloucester today attended the annual celebration of the life of Columbanus at the Clarion Hotel Carrickfergus, hosted by The Ullans (Ulster Scots) Academy.
The Ullans Academy is a voluntary organisation founded in 1992 under the leadership of historian Dr Ian Adamson OBE. It aims to encourage and promote Ulster Scots and Ulster Gaelic heritage, culture and language through community and education programmes and initiatives. The Academy works with cross-community groups, promoting cross-community/cross-border development and shared historical cultural programmes.
Arriving at the Clarion Hotel, Carrickfergus, HRH was greeted by the Vice Lord-Lieutenant of County Antrim Mr Richard Reade DL. Throughout the engagement HRH was accompanied by Dr Ian Adamson OBE, President, Ullans Academy.
Moving to the Glendun Suite for pre-lunch drinks, HRH met over one hundred and fifty guests attending the "Feast of Columbanus" lunch.
Speaking at the lunch in the Causeway Suite were Ruairi Ó Bleine welcoming guests in Irish and Dr Adamson welcoming guests in Ullans Later The Reverend and Right Honourable The Lord Bannside PC delivered a speech on Columbanus. Master of Ceremonies Sammy Douglas MLA then invited HRH to speak.
During Lunch light entertainment was provided by children from two Belfast Primary Schools.
Following farewells HRH departed for the next engagement
Published 23 November 2011