News story
HRH The Duke of Edinburgh meets 100 Gold Award winners at Hillsborough Castle
In Northern Ireland the Duke of Edinburgh Award continues to grow and appeal to a large number of young people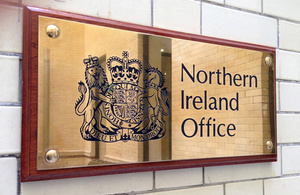 HRH the Duke of Edinburgh today met one hundred Duke of Edinburgh Award winners at a ceremony in Hillsborough Castle.
In Northern Ireland the Duke of Edinburgh Award continues to grow and appeal to a large number of young people. Last year new starts increased by 27% to nearly 8,500 and awards achieved increased by 4%. Northern Ireland consistently achieves the highest level of penetration into its eligible population of any region or country in the UK.
Upon arrival HRH was greeted by the Vice Lord Lieutenant of County Down Mrs Fionnuala Cook OBE DL and went on to meet Mrs Ann Mackie, Sheriff for County Down and Ms Kate Thompson, Duke of Edinburgh's Award Director, - Northern Ireland.
In the Drawing Room HRH met Ms Karen Carson, Room Steward,, Mr Edwin Parks, Deputy Room Steward,  and Group Marshall Heather Best. HRH had the opportunity to chat with approximately forty Gold Award recipients, their families and friends. Ms Lynne Hanna, Adventurer, who with her husband Noel, were the first married couple to reach the summit of Mount Everest, assisted with the presentation of the Gold Award Certificates to the participants on behalf of HRH.
Moving through the Hallway HRH met Ms Nicola Barratt, Music Teacher and a group of musicians from St Malachy's College, Belfast who provided the background music during the event.
In the Throne Room HRH met Mr Jonathan Graham, Room Steward, and Mr David Cunningham, Deputy Room Steward, and Group Marshalls Mr James McClements and Ms Jane Thompson. HRH had the opportunity to chat with approximately sixty young people and guests. Adventurer, Mr Noel Hanna assisted with the presentation of the certificates to the assembled young people on behalf of HRH.
In the Small Dining Room HRH accepted an invitation to present Operating Authority License Certificates to the following organisations: Queen's University Belfast, Officer Training Corps, Northern Ireland Church Lads and Church Girls' Brigade, Scout Council for Northern Ireland, the Royal School Armagh and the Probation Board for Northern Ireland.
HRH was invited by Ms Thompson to present gifts of a Certificate and a Photobook to recently retired DofE office holders Mr Gordon Topping OBE, retired Chair, Northern Ireland Ambassador Network and Mr Brian Dillon, retired DofE Manager, North Eastern Education and Library Board.
Prior to lunch HRH also met Dr Robson Davison, Chairman, Duke of Edinburgh's Award Northern Ireland Ambassador Network and a number of current and recently retired members of the Ambassador Network and  Funders.
Before departure HRH signed the visitors' book bringing the engagement to a close.
Published 16 March 2012