World news story
HRH The Duke of Cambridge and HRH Prince Henry of Wales launch search for The Queen's Young Leaders
The British High Commission in Kingston is delighted that an exciting new Programme set up to discover, celebrate and support young leaders has been launched across the Commonwealth.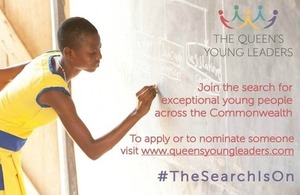 The Queen's Young Leaders Programme, established by The Queen Elizabeth Diamond Jubilee Trust, in partnership with Comic Relief and The Royal Commonwealth Society in honour of Her Majesty The Queen, aims to enable young people to develop their leadership skills to transform their own lives and the futures of others around them.
Launched by His Royal Highness Prince Harry on 9 July 2014 on behalf of Her Majesty The Queen, the Programme aims to discover, celebrate and support young people from every Commonwealth nation, who have achieved great things through their leadership, despite challenges they may have faced along the way. Guided by the values of the Commonwealth Charter, this unique, life-changing Awards scheme will celebrate the achievements of exceptional young individuals who have proved themselves to be inspiring leaders in their communities and have overcome challenges in their lives to do so. The search is now on to find the first 60 inspirational young people to receive a Queen's Young Leaders Award. Nominees are encouraged from all Commonwealth countries and a minimum of one young leader per Commonwealth country will be selected each year.
Young people can nominate themselves for an Award or be nominated. Award winners will be rewarded with a tailored package of training, mentoring and networking, and provided a one-week residential programme during which they will receive their Award. The Programme will strengthen the skills and confidence of Award winners so that they are ready to change the lives of those around them and to inspire the next generation of young leaders. For more information please visit www.queensyoungleaders.com.
Published 9 July 2014