Press release
HRH The Duchess of Cornwall visits Broughshane Library
The Duchess of Cornwall visits Broughshane Library to celebrate National Bookstart Week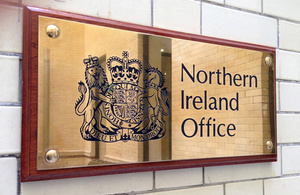 HRH The Duchess of Cornwall on the second engagement of the day attended Broughshane Library, Co Antrim to celebrate National Bookstart Week. Upon arrival HRH was greeted by the Vice-Lord-Lieutenant of County Antrim Richard Reade DL.
Each year Libraries NI organises an event to celebrate and promote 'National Bookstart Week' in Northern Ireland on behalf of 'Booktrust'. The theme this year is 'Fairy Tales' and focusing on the story of 'Goldilocks and the Three Bears'. The story will be used to encourage the sharing of books and stories with children from an early age and promote the healthy eating agenda.
Moving inside the Library HRH met a number of groups representing the following areas:- Libraries Northern Ireland Board Members, Libraries Northern Ireland staff, Booktrust, Broughshane Community Group and Environmental Waterfowl and Wildlife Trust.
Proceeding outside to the Marquee HRH met Valerie Christie, Children's Services Manager, Libraries Northern Ireland, Jenny Bristow, Ireland's Good Food Ambassador, Julie McMaster Cookery Assistant and Richard Topping, Principal, Broughshane Primary School. HRH was invited by Jenny Bristow to join the children in making muffins.
Moving around a number of tables HRH met pre-school children involved in the following activities:- Shopping for ingredients, Mixing dry ingredients, Decorating muffins, Wrapping muffins, enacting fairy tales with finger puppets.
Later HRH was invited to read the story of Goldilocks and the Three Bears to the children and watch the 'Three Bears Rap' in the company of 'Bookstart Bear'. Following the performance HRH was invited to hand out "Goodie " packs to some of the children.
Mrs Knox, Chief Executive of Libraries NI said a few words of thanks and invited pupil Laura Moore to present gifts to HRH. The gifts were, fairy tale books 'Goldilocks and the Three Bears' by Emma Chicester Clark, 'The Orchard Book of Hans Andersen's Fairy Tales' by Martin Waddell, Cookery Books 'Highdays and Holidays' by Jenny Bristow, and 'Jenny Bristow Cooks for the Seasons, Spring and Summer'.
Prior to Farewells and departure HRH signed the visitors' book.
Published 25 June 2013