News story
HRH The Duchess of Cornwall attends The Big Jubilee Lunch at the Palace Demesne, Armagh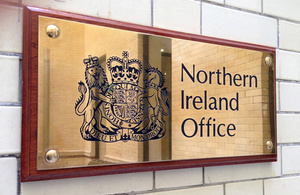 On the final engagement of a two day visit HRH The Duchess of Cornwall attended the Big Jubilee Lunch at the Palace Demesne, Armagh. Upon arrival HRH was greeted by The Deputy Lieutenant of County Armagh, Mrs Jill Armstrong DL, and the Deputy Mayor, Councillor Mealla Campbell.
The Big lunch is a very simple idea from the Eden Project - encouraging as many people as possible to have lunch with their neighbours once a year. In 2012 the event will support The Queen's Diamond Jubilee celebrations on Sunday 3rd June and will be called The Big Jubilee Lunch. HRH is Patron of The Big Jubilee Lunch.
Accompanied by the Deputy Mayor, HRH alighted a horse-drawn carriage for the short journey to The Palace. At the entrance, HRH met "Archbishop Robinson" in character, a living history interpreter enacted by Ralph Adams, who gave a formal welcome and conducted a short history of the Palace and his vision for Armagh. HRH was presented with a posy by Shannon Thornton aged ten, a P6 pupil at Saints and Scholars Integrated Primary School.
Moving to the marquee where background music was provided by The Armagh Pipers Club, HRH met Brian Johnston, Tourism and Development Officer, Armagh City and District Council; Edmund and Janet Allen, Owners Green Diamond Bramley; and David Johnston, Researcher, Agri-Food and Biosciences Institute. HRH heard about the apple growing industry and the granting of Protected Geographical Indication (PGI) status to Bramley Apples.
HRH later met Maria Harrison, Music Teacher, Saints and Scholars Integrated Primary School, and was invited to join schoolchildren making bunting for the occasion. HRH also met Elaine Devlin, Investing for Health Officer, who outlined her role in promoting health and wellbeing in the local Council areas, before joining a small group of children operating a bicycle powered "smoothie" maker to make an apple based drink.
HRH joined the guests for lunch at the banqueting table and was entertained by a group of Irish Dancers performing a short dance programme. Moving around the table HRH met a number of guests, including Mayors' Award Recipient, Thelma Gorman; Olympic Torch Bearers, Megan Bothwell and Leigh Coade; and "Freedom of the City" recipients representing the Northern Ireland Fire Brigade, The Northern Ireland Ambulance Service, Order of Malta and St John's Ambulance.
HRH also met Community and Arts representatives Roberta Pollock and Edith McAdams; Big Lunch Champions, Mercy Little, Robin Dalzell, and Mervyn Dougan; and Charity Workers representing St Vincent de Paul, the Royal British Legion and the Crossfire Trust.
HRH met Councillor Freda Donnelly, Mayor, Armagh City and District Council who said a few words of welcome before presenting HRH with a gift of a hamper of local produce and invited HRH to plant a native oak tree to celebrate the award of Lord Mayor Status to the City of Armagh. During the tree planting ceremony singing was provided by The Saints and Scholars Integrated Primary School Choir.
Proceeding inside the Palace, HRH met a number of Council staff in the Armstrong Room  and was presented with a gift of a leather bound book by the Mayor, entitled " Saint Patrick's City - The Story of Armagh" by Alf McCreary and was invited to sign the visitors' book prior to departure.
Published 27 April 2012