How will the world look in 2030?
Climate change will reverse years of work reducing poverty without strong, urgent action, according to a report released today.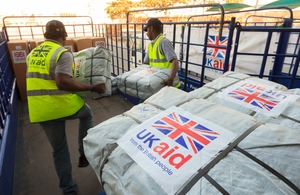 The future climate for development calls on governments and NGOs to build climate change into their economic development programmes to help low-income countries manage its impacts and seize new opportunities as the world shifts to a low-carbon economy.
The report, produced by independent sustainability experts Forum for the Future with support from DFID, explores how climate change will transform low-income countries over the next 20 years, causing profound social, economic and political changes as well as major environmental impacts.
Stephen O'Brien, International Development Minister, said:
Without urgent action, climate change threatens to undo years of work tackling poverty in the developing world. That's why the UK is now working across the globe to help the world's poorest people adapt to the impacts of climate change and build the low-carbon economies that are so vital to a stable, successful future.

This report will act as a vital tool to help poor countries plan for an uncertain future, and underlines our need to build climate change into everything we do.
The report calls for development agencies to look for "win-win" opportunities which address climate change and tackle development goals like reducing poverty and improving health and education. For example:
investment in renewable energy and energy efficiency can enhance energy security;
promoting low-carbon transport means less congestion and pollution and improves health;
low-input agriculture, which does not rely on fertilisers to maintain soil quality, boosts food security and helps countries adapt to a changing climate.
Four scenarios for low-income countries in 2030
The report is designed to be a practical tool to help governments, NGOs, businesses and policy makers "future-proof" their strategies and plan for a range of possible outcomes. It examines issues which will affect low-income countries over the next 20 years and explores how these may play out in four plausible scenarios for the world of 2030.
The scenarios have been brought to life in four short animations:
Published 20 July 2010