How video hearings are speeding up court cases
Video hearings are being extended in a number of courts across the country.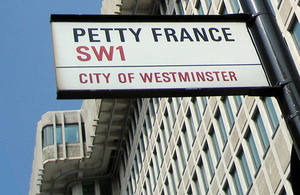 Video hearings are being extended in a number of courts across the country as part of an initiative involving police and courts staff working together.  Assistant Chief Constable Ruth Purdie from Cheshire Police explains the benefits of these new 'virtual courts' for the justice system.
For a number of years in Cheshire video hearings have taken place for defendants remanded to prison awaiting trial, thereby reducing the requirement to transport them between prison and court on a regular basis.
Virtual courts have extended this process to the police service by allowing defendants in custody at a police custody suite to appear at a first hearing by video link to a magistrates' court.
Cheshire is an early national adopter of virtual courts, and the first 'live' video hearing took place at Blacon Custody Suite in November.
Virtual courts increase court flexibility, allowing video first hearings to take place later in the day. This may result in an increase in the number of cases that are heard on the day of charge and a reduction in the time from charge to the first hearing. As a direct result, the number of defendants held in custody suites overnight should be reduced.
In addition to the introduction of virtual courts in Cheshire, work is also progressing to introduce 'Live Links', a scheme that will allow our police officers and staff to give evidence in summary trials by video link.
Currently police officers and witnesses attend court at 9:30am on the day of a trial and can wait all day to give evidence. This can sometimes go into further days, depending on the complexity of the case.
In 70 per cent of Cheshire cases police officer evidence is not challenged by the defence and therefore their appearance in the trial is not needed. The ability for police witnesses to give evidence from police stations should save time, allowing them to progress paperwork and resume front line duties more quickly.
The initiative will also mean that it will no longer be necessary for our officers to generate paper case files. Officers will start to build more case files on the ATLAS case management system for electronic transmission to the Crown Prosecution Service - meaning we can remove the need for paper files, which currently total £36k in paper costs alone per year.
Overall, this new way of working offers more advantages than disadvantages. It will speed the resolution of cases for victims, witnesses and defendants, free up police for front line duties, and enable magistrates to hear more cases more quickly.
These changes will allow the justice system to modernise and maximise the use of available technology whilst achieving efficiencies. I recognise that there is a lot of change occurring very quickly around this programme; consequently there is a training programme running in parallel to ensure that our police officers and police staff are supported in a way that allows them to work effectively.
This is an exciting initiative which reflects the strength of partnership working within the criminal justice system in Cheshire. The challenge is to now build upon this success and further identify efficiencies to improve value for money for the public of Cheshire.
Assuming success in Chester, the virtual courts scheme will be rolled-out to Northern and Eastern Areas in the coming months, resulting in all custody suites being equipped by April 2012, and it is anticipated that live links will start later this year.
Published 27 February 2012