How to apply for a UK visa
The following is a step by step guide to apply for a visa to the UK: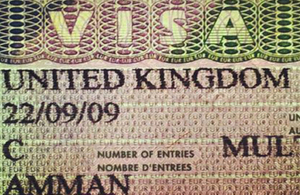 1) Enter www.visa4uk.fco.gov.uk, which is the UK's Visas and Immigration website.
2) If you are making a new application click "Register an Account". You will receive an email to activate your account. After you activate it, you need to fill in all mandatory parts marked with " * ", leaving no blanks. (If you have saved but did not submit your application, click "Log in" to continue.)
3) When you click the activation link, your account will be unlocked and you will be directed to log in page. You can login with your email and password.
4) Select your visa type and answer all questions to create your application. Whether you are applying for yourself or someone else, you need to fill in all mandatory parts marked with "*". Each section you have completed will be green. If you have left a question blank, the section heading will be black. If you try to proceed without completing the black sections, you won't be able to submit your application. These sections will be highlighted in orange. You need to complete orange sections before you can proceed.
5) Once you confirm application. You will be able to see all the information you have provided and can return to application if you want to make any changes. Otherwise, click "submit application". No further changes can be made once your application has been submitted.
6) Please ensure that you read the legal declaration and then click "Sign Declaration" to confirm that you have read and sign by writing your name on the blank cell.
7) Click "Book Appointment". Select the Appointment Location and Visa Appointment Type.
8) Book an appointment from the available dates and times in the table. Proceed by clicking "Next", you will see your appointment confirmation and supporting documents page. Read and click "Next".
9) Once you have made your appointment, you will need to pay your visa fee online. Read condition of payment and refund policy; mark boxes to confirm you have read and understood the information to make payment. You will be directed to a secure payment system. Following your payment, you will receive an email confirming your payment and appointment details.
10) Once you have completed your visa application and made your appointment you must create an account on the Teleperformance website www.tpcontact.co.uk.Failing to create an account on the Teleperformance website may delay your appointment at the visa application centre. Pick your resident country and click submit then Create an account. You can find your GWF xxxxxxxxx (reference) in the emails you have received from UKVI.
11) You will see a notice when you successfully register and receive an email. Now that you have registered, you will be able to log in to view your account and track your application progress. You may now log into your account on www.tpcontact.co.uk by clicking the link or copying and pasting the link to your browser.
12) If you need to check the status of your order, please visit our home page at www.ge2tr.tpcontact.co.uk and click on "My account" in the menu or login from www.ge2tr.tpcontact.co.uk/user.
13) Before you attend your appointment at the visa application centre, make sure you have:
Printed application form
Appointment confirmation
Supporting documents, which should include original documents, officially translated documents and any other document you feel will support your case for getting a visa.
Confirmation of fees paid.
14) After the interview, it will take up to 15 business day (3 business weeks) for a visa to be issued for applicants from the West Bank and East Jerusalem. For applicants from Gaza, it may take up to two extra business weeks for the visa to be issued.
Note:
To be able use the User Pay Application Centre in Jerusalem, you will need to pay £59.
Please note that payment of this User Pay fee is due to be moved to the Visa4UK site. Once this is done, you will be able to pay the fee at the time of booking your appointment.
Published 13 October 2014