World news story
How is the UK supporting Tunisia?
This was published under the 2010 to 2015 Conservative and Liberal Democrat coalition government
The areas of support and projects that the British Embassy in Tunis is funding for financial year 2014/15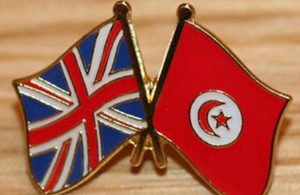 The UK has been committed to supporting democratic transition Tunisia since the revolution. Much of the UK's support is delivered through the International Financial Institutions (IMF, WB, EIB etc) and other international bodies (e.g. the G7/8). In addition, the UK is currently providing targeted and measurable bilateral support in eight different areas. The UK's overall bilateral support to Tunisia through the Arab Partnership programme since the 2011 revolution until March 2015 will exceed £10m.
The following is a breakdown of the areas of support and projects that the British Embassy in Tunis is funding for financial year 2014/15. For more information please visit the links provided below.
Areas of Support and Projects:
1. Freedom of Expression and Public Voice.
Article 19 : Strengthening public voice through progressive legal and regulatory frameworks for Freedom of Expression/Access to Information.

BBC Media Action : Strengthening Tunisia's public service broadcasting capacity, reinforcing its editorial independence in particular to report elections fairly and produce factual programming

National Observatory of Youth : Strengthening local democracy and spreading civic culture among youth by creating five community web radio stations and supporting youth participation in local community life.
2. Rule of Law and Anti Corruption
OECD : Supporting development and application of a Code of Conduct for public servants; strengthening risk management and audit in public institutions; developing a legal framework for whistle blowing and enhancing transparent public procurement.

UNDP : Strengthening independent anti-corruption institutions supporting policy reform for the implementation of the UN Convention against Corruption.

Natural Resource Governance Initiative : Supporting the Tunisian Government to manage effectively resources from extractive industries, while simultaneously building the capacity of civil society to hold government to account.
3. Political Participation and Electoral Processes
4. Border security
Consortium Aktis-International Alert-Strategic Capacity Group: Developing and piloting new community engagement approaches on the Tunisian-Algerian border area, working with local security forces and communities.

Danish Demining Group: Working with local communities and security providers to counter the destabilising effect of illicit cross border trade in Ben Guerdane (Tunisian-Libyan Border).
5. Security Sector Reform
Aktis Strategy: Strategic planning capacity building for the Ministry of Interior, including providing technical advice and assistance to the newly-established strategic planning unit.

Media Diversity Institute: Improving professional and responsible media reporting on security topics to improve public debate. Sharing perceptions of security reporting between media and security professionals.
6. Preventing radicalisation
International Alert: Capacity building for Tunisian University social scientists to conduct impartial and empirical research into socio-economic issues in city suburbs. Their analysis aims to create more objective and realistic public understanding and to help the authorities to identify the measures necessary to address drivers of radicalisation.
7. Human rights
Search for Common Ground: Helping Women's rights Civil Society Organisations in Tunisia promote a culture of cooperative dialogue on legal reform and other women's rights issues among Tunisian women CSO constituencies.
8. Job creation and Economic Reforms
African Development Bank Trust Fund : Support to foster entrepreneurship with a specific focus on women, youth, and the poorest regions. Souk Attanmia

Mercy Corps : Supporting the integration of Tunisian youth in the private sector as employees and entrepreneurs through increased financial inclusion
For more information:
Twitter @UKinTunisia
Contact BritishEmbassyTunis
Document information
Published: 29 January 2015