How 'Fabio' is your footie food?
Do you know the score when you order takeaway?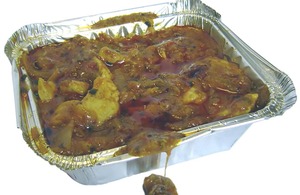 With England's World Cup campaign due to kick off this Saturday millions of England fans are expected to settle down in front of a big screen TV with their takeaway or pub grub without knowing how clean the kitchen that made it is.
Ministers are urging councils to expose the official food hygiene ratings for every fast-food outlet, pub or restaurant in Britain. Every year councils inspect thousands of food outlets but the information is not always made easily available.
As part of the new coalition government's pledge to open up officially held information, ministers want people to be able to see at the touch of a button whether their favourite takeaway is up to the mark or falling short.
Under 'The Food Safety Act 1990' any establishment making food is routinely inspected every 6 months to 3 years, but so far just 94 councils routinely release that data through the Scores on the Doors website but the data isn't necessarily openly available for use even then. Now ministers are encouraging every council to share what they know about food outlets in an open-data format that could be used by third-party websites or to create an iPhone app to help fans decide where find 'top-notch footie-food'.
Local Government Minister Grant Shapps said:
With England's World Cup kicking off on Saturday, takeaway orders will go through the roof. In future it should be possible to quickly and easily check the food hygiene record of your favourite 'chippy' or pizza delivery service from your mobile phone without even leaving the sofa. This is data which is already collected, but by making it freely available the so called 'wisdom of crowds' could drive hygiene standards much higher.

Nowadays people who book a family holiday are used to checking on sites like Trip Advisor to find out what others thought of their hotel. If councils now release their food hygiene information in an open-data format then restaurant reviews could routinely reference it. Nothing would do more to drive up hygiene standards than shining a bright light on this information which is already gathered.
94 councils have already worked with the Food Standards Agency 'Scores on the Doors' scheme to get reports online. Ministers are urging all councils to do the same and for that data to be more open to other services like popular phone based applications including Google Maps which already provides user restaurant reviews, but could in the future easily include hygiene rating information too.
Councils are being encouraged to go further by throwing open all their files. The idea is that if information is subject to Freedom of Information it is information that should be provided for free.
Mr Shapps is calling for councils to think right across the piece. Not presuming to know what people need to see but letting local people decide for themselves.
Further information
'Scores on the Doors' already lists over 100,000 premises and gets around 50,000 requests a month via text or internet for council hygiene star ratings. Ministers are urging that the data be opened up so that third-parties can include the information alongside restaurant reviews online and on iPhone style apps.
The move comes as part of Communities Secretary Eric Pickles' new drive for greater transparency in town hall openness accountability, where councils are being encouraged to publish details of all spending over £500 in full and online.
Councils are being encouraged to throw open their files and alongside spending info, publish a wide range of data online including:
information on senior salaries, names and job descriptions
councillor allowances and expenses
minutes and papers of council meetings
job vacancies that will enable people to see why council wage bills are so high and how many of the positions are for key local services
frontline service data - including rubbish and recycling rates, council tax collection rates and detail of major planned projects
data such as food hygiene reports for food outlets - information which is routinely collected and of interest to residents, but not currently shared in an easily accessible format
Published 7 June 2010