News story
Housing design seminar: Sheffield - 3 February 2016
Presentations from the Homes and Communities Agency's housing design seminar held at the University of Sheffield, at 3 February 2016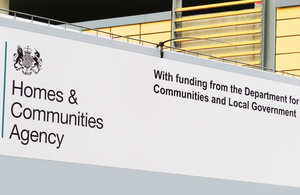 Presentations from the Homes and Communities Agency's housing design seminar held at the University of Sheffield, at 3 February 2016.
The well-attended event informed and inspired partners to deliver high quality and well-designed places and included
the latest national picture in terms of policy development and the use of standards
case studies from HCA and partners who have successfully delivered good quality new homes
research on parking provision within residential developments, and how to improve layouts to increase resident satisfaction
a focus on offsite manufacture, including several companies that are in the process of, or already delivering a variety of modular homes
Download videos and presentations:
01 - Naz Parkar - Homes and Communities Agency (PDF, 1.48MB, 14 pages)
02 - Jane Briginshaw - Homes and Communities Agency (PDF, 1.19MB, 17 pages)
03 - Helen Forman - Homes and Communites Agency (PDF, 1.67MB, 18 pages)
04 - Tom Ground - L&G Homes (PDF, 1.83MB, 19 pages)
05 - James McMillan - Modular Allianz (PDF, 772KB, 20 pages)
06 - Oliver Novakovic - Barratt (PDF, 848KB, 11 pages)
07 - Owen Daggett - Joseph Rowntree Foundation (PDF, 1.81MB, 19 pages)
08 - Richard Partington - Studio Partington (PDF, 2.15MB, 28 pages)
09 - David Roberts - Igloo (PDF, 3.85MB, 23 pages)
10 - Cany Ash - Ash Sakula (PDF, 9.86MB)
11 - David Rudlin - URBED (PDF, 5.5MB, 54 pages)
Published 10 February 2016
Last updated 11 February 2016
+ show all updates
Removed one presentation at the request of the manager.
First published.