House of Commons to debate EU Bill
The EU Bill will be examined in detail by Parliamentarians today in the House of Commons.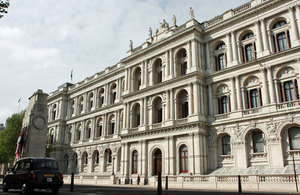 The EU Bill enters Committee Stage today with an examination of Clause 18, covering "Status of EU law". The Minister for Europe will lead on behalf of the Government.
A minority of Bills are dealt with by a Committee of the Whole House (taking place on the floor of the House of Commons), with every MP able to take part; the EU Bill is following this route, given its constitutional nature. During the Committee Stage, which will continue over five days later this month and at the start of February, every clause in the Bill will be agreed to, changed or removed from the Bill, although sometimes this may happen without debate.
Once Committee Stage is finished, the Bill will have its Third Reading, where it is then considered as a whole with any amendments included. After that, the process will be repeated in the House of Lords.
The debate can be viewed live on the Parliament website.
On 10 January Minister for Europe David Lidington published the Government's response to the European Scrutiny Committee report into Clause 18 of the EU Bill:
"The Government is grateful to the Committee for this report. It agrees strongly with the Committee on the need to assert and to defend Parliamentary sovereignty. However, we are not seeking in the EU Bill to provide an all-embracing doctrine of Parliamentary sovereignty, so the apparent risks the Committee identify do not arise.
The purpose of Clause 18 is to make clear that the continued application of EU law within the UK legal order remains dependent on the will of Parliament. In so doing, clause 18 will provide authority which can be relied upon to counter arguments that EU law can become an integral and autonomous part of the UK's legal system, independent of what has been put on the statute books by the UK Parliament. Putting this principle beyond doubt, as we are doing in the EU Bill, does not open the door to legal challenge of the UK Parliament's sovereignty. The purpose of this clause is precisely the opposite: it removes any doubt there may have been about the fact that EU law is applicable in the UK solely because the UK Parliament has willed it should be."
Published 11 January 2011