World news story
Hotel developers meet with Governor
The investors behind major new hotel developments planned for Providenciales met with Governor Peter Beckingham on Monday, 17 February 2014.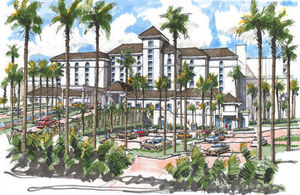 The Venezualan Group Desarrollos are developing two or three hotels in Grace Bay, including one for JW Marriott.
They plan to open a new nine storey 380-room JW Marriott Hotel and Casino, with a gourmet specialty restaurant, a three-meal-a-day restaurant, a lobby bar and lounge and a pool bar & grill.
It will also feature a 1,300 square meters of meeting space, including a ballroom; as well as a 962 square meter spa and fitness center, a kids/teen club, three swimming pools and a 901 square meter casino.
Mr and Mrs Walter Stipa, and their son Roberto and daughter in law, flew in to Grand Turk from Aruba, where they have already developed a resort, together with advisers to the Group.
They had lunch at Waterloo before being given a brief tour of Grand Turk. Governor Beckingham said:
I was delighted to have an opportunity to meet these important investors in Turks and Caicos" said Governor Beckingham.
It provided me with an opportunity to underline the country's commitment to welcome new, up-market developments in Providenciales.
The investors re-affirmed their confidence in TCI, and we agreed to aim towards a starting date of the last quarter of this year for their first project.
Published 19 February 2014