News story
Hooper Report: Industry should lead on new 'Copyright Hub'
The report, 'Copyright works', was Richard Hooper's final report on the feasibility of developing a Digital Copyright Exchange. The report's…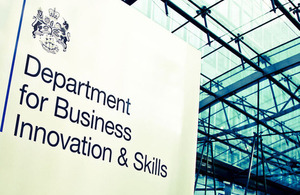 The report, 'Copyright works', was Richard Hooper's final report on the feasibility of developing a Digital Copyright Exchange. The report's two key recommendations are for the creation of a not-for-profit industry-led, industry-funded Copyright Hub, and the establishment of a steering group to drive forward and oversee the design and implementation of the Hub.
The Copyright Hub will have five main purposes, to:
act as a signpost and be a navigation mechanism to the complex world of copyright
be the place to go for copyright education
be the place where any copyright owner can choose to register works, the associated rights to those works, permitted uses and licences granted
be the place for potential licensees to go for easy to use, transparent, low transaction cost copyright licensing
be one of the authoritative places where prospective users of orphan works can go to demonstrate they have done proper, reasonable and due diligence searches for the owners of those works before they digitise them
Richard Hooper said:
"If the UK is to maintain and improve its position as world leader in the creative industries then it needs an efficient and responsive system to manage the use of creative rights.
"Setting up an industry led and industry-funded Copyright Hub will help maximise the potential for creators and rights owners on the supply side and the wide range of licensees and users on the demand side.
"Creating a single marketplace for copyright licensing would not only reduce the costs of licensing and simplify a complex system that can be difficult to navigate but would also bring together key players to have a more effective exchange and use of rights. This will only help boost economic growth, ensuring that both the industry and consumers are making the most of the UK's creativity."
Welcoming the report, Business Secretary Vince Cable said:
"The idea of a 'copyright hub' is an ambitious undertaking and one that could clearly yield great benefits for the UK's creative industries and consumers. It is potentially a ground-breaking step forward that will help make copyright licensing fit for 21st century.
"Richard Hooper has put forward a detailed and thoughtful report, with recommendations for industry and the Government. We will support the further work he recommends and, working alongside the industry, look forward to building the long term consensus to deliver this vision."
The recommendation to facilitate an industry-led Digital Copyright Exchange came from Professor Hargreaves' review of intellectual property and growth, published in May 2011. Business Secretary, Vince Cable, asked Richard Hooper to undertake a detailed analysis of whether and how such an idea might work.
**Notes to Editors
**1. Richard Hooper was appointed by the Secretary of State for Business Vince Cable to lead an independent feasibility study on creating a Digital Copyright Exchange (DCE) on 22 November 2011.
Richard was Deputy Chairman of OFCOM between 2002 and 2005 and was Chairman of the independent review of the Postal Services Sector. He stood down as Chairman of Informa plc in May 2007 after 10 years on its Board. He is currently Senior Independently Director at YELL group plc and at VocaLink Holding Ltd. He was Chairman of the Radio Authority for three years until 2003.

Today's report ([http://www.ipo.gov.uk/hargreaves-copyright-dce.htm](http://www.ipo.gov.uk/hargreaves-copyright-dce.htm)) is based on evidence collected over a period of eight months from December 2011 to July 2012. For further information about the report please email HooperSecretariat@ipo.gov.uk

In Phase one, evidence was collected through 90 face to face meetings with individuals, collecting societies, record labels, trade associations, lobby groups and others from across the creative industries, and this was supplemented with 117 responses to the Call for Evidence issued on 4 January 2012.

Phase two of the feasibility study began in April 2012 and focused on developing solutions to the problems identified in the first phase, including a DCE. The recommendation for a DCE was put forward by Professor Ian Hargreaves in his report 'Digital Opportunity: a Review of Intellectual Property and Growth,' which can be found at www.ipo.gov.uk/types/hargreaves.htm. Phase two involved face to face meetings with 70 organisations and a stakeholder meeting for 100 people.

The Intellectual Property Office (IPO) is within the Department for Business, Innovation and Skills (BIS) and is responsible for the national framework of Intellectual Property rights, comprising patents, designs, trade marks and copyright.

The IPO's role is to help manage an IP system that encourages innovation and creativity, balances the needs of consumers and users, promotes strong and competitive markets and is the foundation of the knowledge-based economy.

The IPO operates in a national and an international environment and its work is governed by national and international law, including various international treaties relating to Intellectual Property (IP) to which the United Kingdom is a party.
For media queries, please contact Veena Mapara on 0207 215 5614.
For emergency media calls out-of-hours please contact the duty press officer at the Department for Business, Innovation and Skills on +44 (0) 207 215 3505.

The Government's economic policy objective is to achieve 'strong, sustainable and balanced growth that is more evenly shared across the country and between industries.' It set four ambitions in the 'Plan for Growth' (PDF 1.7MB), published at Budget 2011:
To create the most competitive tax system in the G20

To make the UK the best place in Europe to start, finance and grow a business

To encourage investment and exports as a route to a more balanced economy

To create a more educated workforce that is the most flexible in Europe.
Work is underway across Government to achieve these ambitions, including progress on more than 250 measures as part of the Growth Review. Developing an Industrial Strategy gives new impetus to this work by providing businesses, investors and the public with more clarity about the long-term direction in which the Government wants the economy to travel.
BIS's online newsroom contains the latest press notices and speeches, as well as video and images for download. It also features an up to date list of BIS press office contacts. See [http://www.bis.gov.uk/newsroom](http://www.bis.gov.uk/newsroom) for more information.
Notes to Editors
Contact Information
Name BIS Press Office Job Title
Division Department for Business, Innovation & Skills Phone
Fax
Mobile
Email bispress.releases@bis.gsi.gov.uk
Name Veena Mapara Job Title
Division Department for Business, Innovation & Skills Phone 020 7215 5614 Fax
Mobile
Published 31 July 2012