News story
Honorary QC nominations: deadline 9 August 2013
You are invited to nominate people for appointment as Queen's Counsel 'honoris causa' (honorary silk). Nomination forms must be returned to us by 9 August 2013.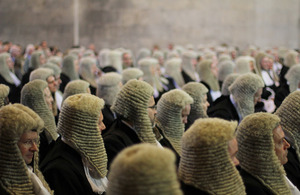 The Ministry of Justice intends to recommend a number of people to Her Majesty for appointment as Queen's Counsel 'causa' (honorary silk) in spring 2014. We are inviting both the legal sector and the wider public to make nominations.
How to make a nomination
We welcome nominations for honorary silk from anyone. If you would like to suggest someone for appointment, please let us have the following information:
the person's full name
their contact details, if you know them
their legal qualifications, if you know them
your reasons for believing that the person you are nominating has made a major contribution to the law of England and Wales outside practice in the courts.
Please tell us:
what the person has done, where, and (if appropriate) for whom
how, in your opinion, this amounts to a major contribution - beyond what might normally be expected for someone in this person's position.
Please give as much detail as you can. The more we know about a nominee, the easier it is to assess whether they meet the honorary silk criteria. If we have only a limited amount of information about someone, it is unlikely that we will be able to recommend them for appointment.
You can nominate as many people as you like, but please ensure that you keep their details separate.
You need to fill in the nomination form and send it to us by 9 August 2013 preferably by email or alternatively post to:
Jo Sawyers Ministry of Justice 4.41 102 Petty France London SW1 9AJ
Please note, we will only accept nominations which are included in the pro forma attached to this webpage. Letters of support for a candidate will not be accepted or attached to a nomination. In cases where more than one person wishes to nominate a single candidate, each individual must send in a separate form for the nominee in order to give a fuller representation as to the candidate's suitability for Honorary Silk.
Criteria for appointment
In making a nomination you should ensure that your nominee meets the required criteria set out below:
The award is open only to qualified lawyers and to legal academics. However, although the substantive QC rank can be awarded only to lawyers with rights of audience in the higher courts, the honorary rank is not so limited. It is available to any lawyer, whether in private practice, working as an employed lawyer, or in public service. 'Public service' includes any public-sector organisation - national government, local government, or other public bodies such as the CPS or the NHS - and also lawyers working in bodies such as charities or not-for-profit agencies.
Honorary silk is awarded to lawyers and legal academics that have made a major contribution to the law of England and Wales outside practice in the courts, which has not been recognised through other forms of honours.
'Major contribution to the law of England and Wales' can be interpreted as widely as you like. It means not only contributions to the development of the law, but also to people's understanding of it, their ability to make use of it, and its promotion. This can potentially cover a wide range of activities so, while it is difficult to give a definitive list we would like to make it clear that we are happy to consider accomplishments in any area.
'Outside practice in the courts' will generally mean that the award is made for an achievement other than a person's normal practice as a lawyer or academic, which also brings with it a significant degree of public benefit. However, there is no definite boundary to this - for instance, the development of pro bono work is usually closely associated with practice. We would also like to recognise particular distinction in both practice and academic law.
Please note that:
We recognise that those who are not lawyers or legal academics make equally valuable contributions to public life, and may have done so in similar fields, but we regret that the award of honorary silk is not available for such contributions. If you feel that someone in that position ought to be recognised, you can instead nominate them for an honour. If anyone is nominated for honorary silk who is not a lawyer or legal academic, we will not refuse the nomination - we will instead include their name in the Ministry of Justice's consideration of honours. However, if anyone is nominated for honorary silk who has been nominated for an honour this year or has already been honoured in the last year, it is very unlikely that we will be able to put their name forward.
Honorary QC is not a 'working rank'. It cannot be used in practice as a lawyer and, although this has never been a problem, we strongly discourage holders from exploiting the rank to attract business. This does mean, regrettably, that honorary silk cannot be awarded as an alternative to the substantive QC rank for people who, for whatever reason, do not fit its eligibility criteria.
Honorary silk is awarded only in England and Wales. There is no parallel to it in Scotland or Northern Ireland. This does not, of course, mean that achievements of this nature cannot be recognised in those jurisdictions. The honours system is able to do that. If you would like to nominate someone whose work is in Scotland or Northern Ireland, you can contact the Scottish Executive or the Northern Ireland Court Service.
The eight appointees in 2013 were:
Mr Edward Ian Walker-Arnott was admitted as a solicitor in 1963. He has held a long career as a commercial lawyer and was Senior Partner of Herbert Smith Freehills where he remains a consultant. He has been involved in a number of high profile cases, including the creation, initial listing and subsequent development of Eurotunnel and advising Maxwell Communications following the death of Robert Maxwell. Edward also advised on a number of leading judicial review and company law cases and has contributed to the development and teaching of law. Between 1977 and1982 he sat on the departmental Cork Inquiry into insolvency law which led to the enactment of the Insolvency Act 1986. He also sat on the advisory group assisting Sir David Clementi in his review of the regulation of the legal profession. In 1999 he was made a fellow of the University College London and became a visiting professor at the university where he still lectures today. He also lectures internationally in India at one of the country's national law schools.
Ruth Lynn, The Baroness Deech of Cumnor, DBE is a barrister and legal academic who was called to the Bar in 1967. In a career spanning more than 40 years she has been awarded several honorary degrees and was appointed Dame Commander of the British Empire in June 2002. She is a legal academic in family law and a former Principal of St. Anne's College Oxford (1991–2004). She has published widely on issues ranging from genetics, IVF and the regulation of infertility treatment to family and property law. Ruth was chair of the UK Human Fertilisation and Embryology Authority (1994-2002) and dealt with the legalisation of stem cell research. She was a trustee of the Rhodes Scholarships from 1997 to 2006, a governor of the BBC from 2002 to 2006 and the first Independent Adjudicator for Higher Education from 2004 to 2008. Between 2008 and 2012 she was the Gresham Professor of Law and from 2006 to 2010 she was a member of the Select Committee on the Merits of Statutory Instruments. An active member of the House of Lords, she is a member of the Select Committee on Communications and has been chair of the Bar Standards Board since 2009.
Professor Ian Frank Fletcher is a legal academic and barrister. He was called to the Bar in 1971 and was elected as a Bencher of Lincoln's Inn in 2003. He has held a long career in the field of comparative insolvency law and international cooperation in insolvency law and cases. He is Emeritus Professor in the Faculty of Laws at University College London and was elected as an International Fellow of the American College of Bankruptcy in 2008. Ian is widely published including 'The Law of Insolvency' and 'Insolvency in Private International Law' and is involved in part time practice at the Bar. He has also played a leading role in work commissioned by the American Law Institute and International Insolvency Institute, developing principles for cooperation in international insolvency cases. Ian's report on this is being disseminated to courts, practitioners and legislators throughout the world as a basis for the conduct of international insolvency cases. He is an active member of The International Association of Restructuring and Insolvency and Bankruptcy Professionals (INSOL International) where in 1995 he founded the INSOL International Academics Group.
Professor Mark Freedland FBA was called to the Bar in 1971. He is a Bencher of Gray's Inn and an Honorary Member of Chambers at 3 Verulam Buildings. A former Professor of Employment Law at the University of Oxford and a law tutor at St John's College, Oxford, he is currently a Senior Research Fellow at the Oxford Law Faculty and its Institute of European and Comparative Law. His academic career has specialised in Labour and Employment Law and Public Law and his published works include, 'The Contract of Employment' (1976) and 'The Personal Employment Contract' (2003) while he has co-authored 'Towards a Flexible Labour Market' (2005) and 'The Legal Construction of Personal Work Relations' (2012). He holds an Honorary Doctorate at the University of Paris II and held one of the highly-prestigious Leverhulme Major Research Fellowships. He was elected a Fellow of the British Academy in 2001 and has provided studies for the European Commission and the International Labour Organisation on data protection in employment and employment protection legislation. He has recently been made an Honorary Professor in the Faculty of Laws at University College London where he was once a law student.
Professor Geraldine Van Bueren - is a Professor of International Human Rights Law at Queen Mary, London and a barrister at Doughty Street Chambers, which is a set of chambers specializing in human rights. She is one of the original drafters of the United Nations Convention on the Rights of the Child the world's most ratified human rights treaty. UNESCO commissioned her to write 'Law's Duty to the Poor' which argues that the law and lawyers have a duty to assist the impoverished and the vulnerable in both rich and poor countries. She has served as lead Commissioner for human rights on the Equality and Human Rights Commission and is a Bencher of the Middle Temple. Her writings and books including 'The International Law on the Rights of the Child' have been cited before courts and legislatures around the globe. She has advised Uganda on children's rights and Japan on child sexual exploitation as well as being consulted by the United Nations and the Commonwealth.
Miss Eileen Philomena Carroll was admitted as a solicitor on 15 April 1981. She has helped to establish mediation in the Civil Justice System during the last 22 years and was one of the UK's first commercial mediators. As a partner in an international law firm she was the key founder of the Centre for Effective Dispute Resolution (CEDR) and worked to create a non-profit campaigning body and international leader in dispute resolution. She also founded the first commercial mediator training course. In 1997 Eileen received a US award for excellence in bringing Alternative Dispute Resolution to the UK's legal systems. As well as contributing to the leadership role at CEDR, she works as a senior mediation practitioner where she is regularly called upon by large UK and overseas organisations to resolve disputes through mediation, including the US Department for State, the BBC and global banks.
Mr Stefan Tylney Cross was admitted as a solicitor on 1 August 1985. He has worked widely in the area of equal pay law. Stefan fought for equal pay rights for women on a no-win no-fee basis. He brought about substantial changes for several hundred thousand women and as a result of his work more than £1billion has been paid to low-paid women. Stefan has worked on 44 reported equal pay cases and has also championed the cause of low-paid men.
Professor David Christopher Ormerod is a legal academic and barrister. He was called to the Bar (Middle Temple) in 2002 and is a door tenant in the Chambers of Max Hill QC. He was elected a Bencher of Middle Temple in 2009. As a Professor at Queen Mary College, University of London, he has widely published on criminal law including 'Smith and Hogan's Criminal Law', 'Blackstone's Criminal Practice' (general editor with Sir Anthony Hooper) and 'Fraud: Criminal law and Practice' (with Clare Montgomery QC). He holds a number of editorial positions including editor of the Criminal Law Review. He is a member of the Education Committee of the Criminal Bar Association and the Criminal Justice Council and recently assisted the Judicial Studies Board in drafting their Crown Court Bench Book (2010). He lectures regularly to the profession and judiciary, including the Crown Prosecution Service, Serious Fraud Office, Service Prosecution Authority and the Judicial College. He was appointed Law Commissioner for England and Wales in September 2010.
As you can see, this is a wide range of achievements and we are keen to ensure that the award continues to be at least as widely available as this.
Timing
We intend to make the next substantive QC appointments in spring 2014 and we plan to include honorary silk appointments with them. In line with standard practice, we would like to allow as much time as possible for nominations to be made, but we do need time to consider them and decide who should be recommended to Her Majesty. Because of this, please ensure that your nominations reach us no later than 9 August 2013. If we receive nominations after this date, we will do our best to include them, but we cannot guarantee that they will be considered.
Background
The rank of Queen's Counsel is awarded to advocates (barristers and solicitors) who have demonstrated particular skill and expertise in the conduct of advocacy. It has been awarded in various forms for around 400 years. Since 2005, an independent Selection Panel has made recommendations to the Lord Chancellor, using a new system of assessment based on competencies and rigorous analysis of evidence.
The rank of Queen's Counsel honoris causa is separate. The first awards were made in the late nineteenth century and it has been the practice for governments to recommend a small number of lawyers and legal academics for the honorary rank with each round of substantive appointments. Despite its name, honorary silk is not part of the honours system and is administered separately within the Ministry of Justice.
Both versions of the QC rank were suspended in 2003 while the Department for Constitutional Affairs (as it then was) conducted a consultation exercise about the future of Queen's Counsel. The QC Selection Panel was the result of that consultation. The first new awards of QC and QC honoris causa were made in October 2006.
Contact us
If you would like any more information about honorary silk or how to make a nomination, please feel free to contact us by phone on 020 3334 4270, or by email: Joanna Sawyers
Published 12 June 2013