World news story
Honorary medals for Ambassadors of countries of the anti-Hitler coalition
Ambassador Robin Barnett accepted an honorary award on behalf of the UK on the 70th Anniversary of the Warsaw Ghetto Uprising.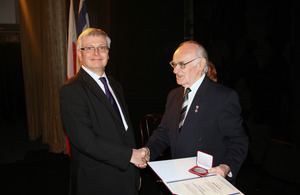 In 1993, on the 50th Anniversary of the Warsaw Ghetto Uprising, the Association of Jewish Veterans created a medal which is awarded annually to Poles that excel in eradicating mutual prejudices and nurturing the history of the Polish Jews.
This year an honorary medal was awarded by the Association to the Ambassadors of countries that were part of the anti-Hitler coalition (the WW2 allies) at a ceremony at the Jewish Theatre in Warsaw on 20 April. The event was part of the commemorative events of the 70th Anniversary of the Warsaw Ghetto Uprising. Following some moving speeches, including by a former inmate of Auschwitz, and the presentation of medals both to Ambassadors and to those who have worked for tolerance, those present watched actors from the Jewish Theatre performing "A Night of the Whole Life", directed by Szymon Szurmiej. The play was a recollection of memories of Doctor Janusz Korczak (a Polish-Jewish educator, paediatrician and orphanage director who refused freedom and went with his orphans from the Warsaw ghetto to Treblinka extermination camp). It had a huge impact on the audience and was a fitting conclusion to the Ghetto Uprising ceremonies.
The Association of Jewish Veterans was established in 1991. Its main aim is to protect the rights of Jewish veterans, including those who fought during WWII. It is a member of the World Federation of Jewish War Veterans. Its 1,000 members are Jews that fought against the Germans, former prisoners of ghettos, concentration and labour camps, as well as those who were in hiding and survived the Holocaust. Its headquarters is located in Warsaw and there are 13 local branches across Poland.
Published 23 April 2013
Last updated 23 April 2013
+ show all updates
Added more photos.
First published.