Press release
Homeless FA is latest winner of Prime Minister's Big Society Award
The Prime Minister has commended the work of national homeless football charity Homeless FA, presenting it with a Big Society Award.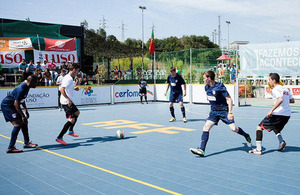 On the eve of the Homeless World Cup, the Prime Minister has commended a London-based charity for transforming the lives of homeless people all over the country.
Homeless FA, England's national homeless football charity is the latest winner - selected by the Prime Minister - of a Big Society Award for its outstanding work in helping people who are affected by homelessness.
The Homeless FA are also the national partner of the Homeless World Cup, and today the team travel to Poland to represent England at the annual tournament (11 - 18 August), where they will be competing against 72 teams from around the world. Last year was the first year that England was represented by both a men's and a women's team at the street soccer tournament, and in 2013 there will again be both male and female teams taking part. These teams will be supported by 9 staff, including all 4 coaches and player mentors who have been through the programme before and represented England at previous Homeless World Cups.
The charity uses football as the catalyst to give homeless people in England the opportunity to develop their skills and abilities, to gain self-respect and confidence, to improve their health, and ultimately to transform their life.
Since they were set up in 2012, the Homeless FA's Training Centre programme has:
involved 400 players – with approximately one third of the players being female
had almost 9,000 contact hours
a retention rate of 71%
seen 250 of their players receive a qualification
Prime Minister David Cameron said:
I'm delighted to announce Homeless FA as the latest winner of a Big Society Award. I was very impressed by the work they do in partnership with community groups, businesses and sports clubs in not only helping people in need, but providing them with new skills and more importantly new hope, allowing them to go on to contribute to their communities.

Homeless FA is a great example of the big society in action and I wish them every success in the future. And of course let's hope they can continue the nation's winning streak of sporting achievement in next week's Homeless World Cup.
Head of the Homeless FA, Gareth Parker, said:
We are very proud to have won a Big Society Award in recognition of the work that we do. We accept the award on behalf of everyone that works with us, as it is our very own big society of partners that has enabled us to achieve so much in such a short time. In particular we accept the award on behalf of our inspirational players who have shown us the positive change that can be achieved through football. We haven't changed their lives, they have changed their lives.
Homeless FA takes pride in its partnership approach: their training centres run in partnership with professional football clubs including Arsenal, Brighton and Hove Albion, Bristol City, Derby County, Hull City, Manchester United, Norwich City, Sunderland and West Bromwich Albion – often leading to a qualification.
As headline partner, Manchester United's coaches run daily 'Believe FC' workshops, covering topics such as goal setting, motivation, visualisation, perception, communication, self-belief, and managing emotions.
Promoting positive self-perception of their players while challenging and changing public perceptions of homeless people is central to the work of Homeless FA. The charity is equipped to deal with the specific needs of their players. 36 'Team England' players spend 6 months at the Training Centre which includes training at St George's Park, as well as bespoke personal development plans.
Following this 6-month period the Homeless FA continue to work with the players and their regional support networks to ensure that these plans are realised. Their achievements bring recognition to the potential power of sport to engage and transform the most vulnerable in society.
Notes to editors
Contact: Gareth Parker info@homelessfa.org T: 02077591039
During the Homeless World Cup contact: 07739 412 825
Players at the Homeless World Cup
More information on the Homeless FA's work
The Homeless FA was set up as an umbrella organisation, identified as a need in both the homelessness and sports development sectors – and has been ambitious since its inception, seeing the opportunity to become an organisation that reaches much further than simply football for homeless people.
Other activity includes the Homeless FA Community, a network of hundreds of member organisations, from large football clubs such as Manchester United to hostels such as St Mungo's and a strong research arm, with an emphasis on the monitoring and evaluation of all homeless football initiatives. They are currently developing their own educational learning model, called "Football for Change" alongside the Homeless World Cup, Nike and Manchester United.
Case study
James Buckley played for England in the Homeless World Cup 2011 and has gone on to work as assistant coach at the Homeless World Cup 2012 and is now first team coach for all Team England activity in 2013:
I have done many things thanks to the support of the Homeless FA. I have completed my FA level 1 and 2 coaching badges, moved into my own place for the first time and have recently completed my access science course studying Biology and Chemistry at A level meaning that I have recently been offered a place at university to do a degree in sports science.
The Homeless FA Community
The Homeless FA Community is open to any project or organisation that uses football as a means of improving the lives of homeless people in England. They currently have over 200 members and this is projected to more than double in the next year.
Members of the community are able to communicate with other projects to share knowledge and best practice and attend regional Homeless FA meetings. They have access to centralised resources such as start-up packs, good practice tools, funding resources, as well as reduced rates on Upshot (Monitoring & Evaluation tool), pitch and equipment provision. The Homeless FA secures partnerships with national providers (including Powerleague) and then passes on the benefits to its Community members.
A new education programme for 2013 will allow their community members to access free education and training for their players.
Training centres
Homeless FA Training Centres are 5-day programmes of activity run in partnership with professional football clubs. As well as a professional footballers' experience, they include a programme of incentivised learning and deliver a Level 1 Sports Leaders qualification to every player. In 2013 9 Training Centres will be delivered in partnership with Arsenal, Brighton & Hove Albion, Bristol City, Derby County, Hull City, Manchester United, Norwich City, Sunderland and West Bromwich Albion.
Many additional opportunities are provided by these Training Centre partner clubs including employment, volunteering, training and further education. Open days include a stadium tour with focus on promoting the Training Centres, and providing opportunity for football clubs to engage the local community and promote future partnerships.
The Homeless FA selects and manages the England national homeless squads and is the designated national partner for the Homeless. Selection for the Squad, which is undertaken by football club staff and training centre coordinators, is based upon:
increased leadership skills
improved interpersonal skills (emphasis on communication)
increased organisational skills (providing a foundation for increased employability)
improved physical health
Research
The Homeless FA believes in the value of effective monitoring and evaluation of outcomes for participating organisations and players. Data that clarifies what works, how and why is crucial to securing funding, discovering new opportunities and improving delivery. They work in partnership with Upshot, the Football Foundation's online management system and create a hub of experience based knowledge in the area of sport and its impact on the lives of people experiencing homelessness.
The Big Society Awards
The Big Society Awards were set up by the Prime Minister in November 2010. The aim is to acknowledge individuals and organisations across the UK that demonstrates the Big Society in their work or activities. In so doing, the aim is also to galvanise others to follow.
The award focuses upon 3 specific areas:
Outstanding contribution to community
people, projects and organisations that enable communities to drive change themselves
projects and organisations that allow the community to identify solutions
people, projects and organisations that inspire others to contribute to their community
Improving lives and society through innovation, collaboration and new partnerships
people and organisations taking new approaches to public services
successful collaboration and partnerships between public, private and voluntary sector - working together to benefit communities
Engaging in social action
people, projects and organisations taking action in their community
working together for social change (eg through creating groups, campaigns, movements)
generosity of time, money, skills and other resources – in support of social action
Launching the awards, the Prime Minister said:
There are some amazing projects and remarkable voluntary work going on in towns and cities up and down the country, by all kinds of organisations from large enterprises to tiny grassroots schemes and inspirational individuals.

These awards are a chance to pay tribute to those making a valuable contribution to their community, the real champions of the Big Society, but perhaps more importantly, I hope they will motivate many others to take action, get involved and drive change in their area.
Nominations come in from the general public after which there follows a process of scoring and short-listing by civil servants and a further short-listing by a panel of ministers and independent external experts. This panel makes recommendations to the Prime Minister who makes the final decisions about who to make the award to. 12 winners are decided each quarter meeting and then announced once a week throughout the year.
Big Society Awards - inspired by 2012: keeping the Olympic flame burning across the UK
The Olympic and Paralympic Games last summer enthralled the nation and inspired over 70,000 people to volunteer their time and energy. Since then, people have engaged with their local sports clubs, tried a new sport, implemented community initiatives, ignited whole towns and villages to commit to keeping the spirit of 2012 alive.
To celebrate the anniversary of the 2012 Games, a number of awards will be announced for innovative groups, individuals and organisations whose work exemplifies the Big Society and whose Olympic-style achievements are making a real difference in communities.
Enquiries: Lucy Windmill 07795 445 197
Over 80 winners have been announced to date, including:
Community Action Through Sport Promoting, recognising and rewarding all young people for positive community action with sports based awards.
AFC Wimbledon AFC Wimbledon is a professional Football League Two club, which is currently celebrating its 10-year anniversary. The club is still owned by its supporters via the one-fan, one-vote Dons Trust. Since formation, the club's officials, supporters and 300 volunteers have organised a number of community initiatives.
For a full list of winners visit the Big Society Awards website.
Published 8 August 2013