News story
Home Secretary announces the reappointment of HMCIC Thomas Winsor
Her Majesty's Chief Inspector of Constabulary Thomas Winsor has been reappointed for five years.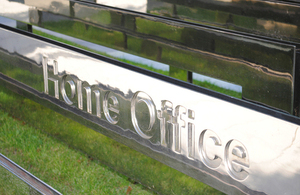 The Home Secretary today announced that Thomas Winsor has been reappointed as Her Majesty's Chief Inspector of Constabulary (HMCIC).
Mr Winsor was originally appointed in October 2012 and is the first holder of that office to come from a non-policing background.
During his two year term, Mr Winsor has successfully overseen the introduction of the new all-force annual Police Effectiveness, Efficiency and Legitimacy (PEEL) inspection programme. The PEEL programme represents a radical shift in how police forces are held to account by enabling the public to see clearly across a range of simple categories, how their force is performing on cutting crime, providing a service that is fair, and providing value for money.
Mr Winsor has also overseen the publication of a number of vital HMIC reports on issues such as domestic abuse, crime data integrity and policing in austerity.
Home Secretary Theresa May said:
As Her Majesty's Chief Inspector, Mr Winsor has worked tirelessly to ensure that the Inspectorate is able to successfully shine a light on policing outcomes and value for money.

He established the PEEL programme, which is giving the public a clear, independent view of the quality of policing in their local area, and delivered thematic inspections on important issues such as stop and search and domestic abuse to ensure police forces are dealing with them appropriately.

I'm delighted to reappoint Thomas Winsor as Her Majesty's Chief Inspector of Constabulary and I very much look forward to working with him in the future.
HM Chief Inspector of Constabulary Thomas Winsor said:
HMIC has changed a great deal in the last two years, culminating in the production of its first in-depth assessment of policing in every force.

It has been a great pleasure and honour to lead HMIC at this time and I look forward to continuing to work with its many talented, hard-working staff for the next five years, in order to carry on and intensify our work in the improvement of policing in the public interest.
Prior to joining HMIC, Mr Winsor carried out a review of the pay and conditions of service of police officers and police staff in England and Wales. In the most comprehensive report on police pay and conditions for more than 30 years he recommended the replacement of pay scales based on time service with a system of pay advancement according to skills and contribution and direct entry to the police at senior ranks.
The reappointment followed the normal process for Crown appointments and was approved by the Home Secretary, the Prime Minister and Her Majesty the Queen.
Published 18 December 2014