News story
Home Office publishes draft Riot Compensation Bill
Provisions in draft Bill propose a fair and sustainable framework for future compensation arrangements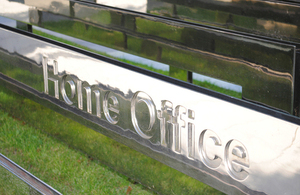 The Home Office today (Thursday 12 March) published a draft Riot Compensation Bill to modernise the way in which the public can claim compensation for loss caused by riots.
The draft Bill will replace the outdated Riot (Damages) Act, which was written in 1886 and remains unchanged.
New provisions
The provisions in the draft Bill propose a fair and sustainable framework for compensation arrangements in the future, and include:
allowing higher value settlements by providing "new for old" replacements for destroyed or damaged goods;
introducing a cap on the amount of money that can be paid out in any single claim, thereby reducing the burden on the tax payer;
increasing the time limit in which people can make claims applications;
allowing people to submit claims electronically, thereby speeding up and simplifying the process; and
providing limited cover for motor vehicles for the first time.
Policing Minister Mike Penning said:
The draft Riot Compensation Bill will replace an Act which is no longer fit for the 21st century with a system that is practical, flexible and will meet the needs of any future compensation claims.

Small and medium-sized businesses are at the heart of their communities and it is right that the Government supports them when they suffer unexpected loss or damages.

This draft Bill will provide a safety net for businesses and individuals should the worst occur while also protecting the public from picking up the bill for very large compensation claims.
The draft Bill follows public consultation and, previously, an independent review of the Riot (Damages) Act by Neil Kinghan, who was commissioned by the Government to assess whether the Act was fit for purpose after London and other major cities were affected by serious public disorder in the summer of 2011.
The Government's response to the consultation on reform of the Riot (Damages) Act is also published today.
Published 12 March 2015