News story
Home Office minister pays tribute to Holocaust hero Frank Foley
This morning Home Office minister Lord Henley dedicated a plaque to the memory of Holocaust hero Frank Foley at historic Hoop Lane Cemetery.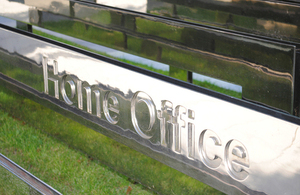 Frank Foley was a British diplomat who worked in the British embassy in Berlin in the 1930s. Foley risked his own life to save Jews threatened with death in the Third Reich.
He did not have diplomatic immunity and was liable to arrest but he still went into concentration camps to get Jews out, hid them in his home and helped them get forged passports. It is estimated that Foley saved the lives of 10,000 people. He died in 1958, aged 73.
Brave actions of a few
At the ceremony, Lord Henley said: 'Over the 6 years from 1939 to 1945, around 6 million Jewish people were victims of the Holocaust. The systematic state-sponsored murder of the Jewish people is one of the darkest stains on humanity. But were it not for the incredibly brave actions of a few heroic men and women, that terrible toll may have been even greater.
'Frank Foley was one of those brave men. Frank Foley is a genuine British hero and it is right that we remember his bravery and selflessness here today.'
The event was attended by guests including Rabbi Abraham Levy OBE, Rabbi Baroness Julie Neuberger DBE, Lord Janner, and the UK Special Envoy for Post Holocaust Issues, Sir Andrew Burns. Nachum Stechler, who Frank Foley helped save, was also in attendance as was author Michael Smith whose book Foley, the Spy who saved 10,000 Jews prompted commemorations for this remarkable British hero of the Holocaust.
Published 12 July 2012