News story
Holocaust Memorial Day
Secretary of State for Scotland Michael Moore commetns on Holocaust Memorial Day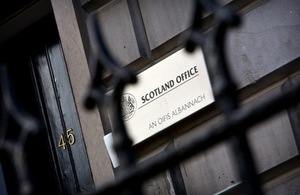 Commenting on Holocaust Memorial Day, the Secretary of State for Scotland Michael Moore said:
"The Holocaust commemorates the darkest hour in European history.
"Sixty six years ago today the Red Army liberated the Auschwitz-Birkenau death camp, where over one million Jews perished.
"We have a duty to ensure that the memory of the genocide of six million European Jews in the Second World War endures. They came from all across Europe and spanned generations - from the smallest babies to the old and the frail.
"It is right that we remember, and I applaud the work of groups like the Holocaust Educational Trust and the Board of Deputies of British Jews for the ongoing work in Holocaust remembrance.
"As the ranks of Holocaust survivors dwindle in number we will ensure their memory lives on.
"Unforgivably, there is a minority in our society who deny the Holocaust and vent anti-semitic prejudices.
"There is no place for this hate in modern Scotland. We will do our utmost to make sure that the power of democracy overcomes the scourge of anti-semitism."
Published 27 January 2011