Hollywood stars meet British soldiers
Stallone and other members of the cast and crew of the film visited the soldiers at Wellington Barracks in central London to show their support…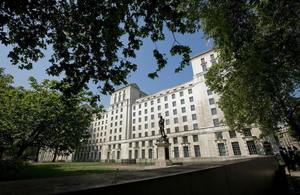 Stallone and other members of the cast and crew of the film visited the soldiers at Wellington Barracks in central London to show their support for the ForceSelect Foundation - a new charity that hopes to raise money for some of the less well known and smaller forces charities.
The Hollywood stars were greeted with cheers as they arrived on the parade ground at Wellington Barracks and answered several questions from the soldiers on the new film and their careers before they were given a tour of some of the military hardware the PWRR uses on the battlefield.
Both Stallone and Lundgren were impressed with the Heckler & Koch Grenade Machine Gun (GMG), which is capable of firing 300 40mm explosive grenades per minute:
I love that 40mm grenade launcher - that's definitely going in the next movie," Stallone said.
See Related Links to watch Sylvester Stallone talk with British Forces News reporter Claire Sadler at the Wellington Barracks event.
Jason Statham meanwhile was particularly interested in the sniper rifles on show.
Sylvester Stallone, who directed, wrote and starred in his latest film, described his visit as 'fantastic', adding that he didn't know why he had waited so long to talk with the soldiers.
He explained that it wasn't just the hardware that he was impressed by, but also that some of the soldiers might have movie star potential:
Actually I got some great ideas for the next one," Stallone said. "Plus I want to start working with some younger guys and I look at these guys' faces and I look at their strength and commitment and I think oh, this is the real deal here, this is what keeps you grounded and makes you proud and makes you jealous - it's like 'why didn't I join up?'!
Dolph Lundgren added:
There are a few good looking chaps here in great shape you know. I wouldn't mind sparring with a few of them, but I don't have time, maybe next time.
In a personal message to all those in the British Armed Forces, Stallone said:
What can I possibly say? You guys have got more guts and more pride and dignity. It is really amazing what you do.

It's powerful, it takes a special person to do it and you deserve all the respect in the world when you come back to this country that you protect so nobly.

Just remember that you are the special people forever, you're incredible and I'll never forget it and the people that love you will never forget it - so fight on.
Commenting on the visit, Lieutenant James Sexton, 2nd Battalion The Princess of Wales's Royal Regiment, said:
It is absolutely fantastic. We are down here just a few miles from our base down in Woolwich to welcome these stars of the big screen who are supporting us by supporting ForceSelect.
It is fantastic and for the big names to give it their punch as well, well that just makes it even better.

[Sylvester Stallone] is a big fan of the GMG and I think after his last Rambo film he wants to kick out the .50-cal and see what the big GMG can do for him.

But I think that some of our weapons might be a bit heavy for him. I think the punch of the British soldier is a bit too much for Sly, Dolph and Statham just yet!
The cast then moved on to the premiere of 'The Expendables' which took place in Leicester Square in the evening. Members of the PWRR were present on the red carpet to welcome the guests and were invited to watch the film before going on to a private after show party.
Among those invited to the premiere were former Chief of the General Staff, Genaral Sir Mike Jackson, and Victoria Cross recipient, Lance Corporal Johnson Beharry.
Published 10 August 2010