World news story
"#Holidaywin or #holidayfail? It's your choice" say leading holiday companies in Spain
Online campaign targets young Brits travelling to Magaluf and San Antonio this summer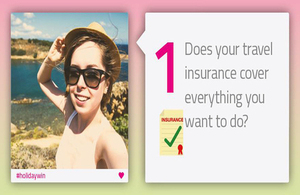 Leading UK holiday companies have launched a campaign with hotels, leading nightclubs and the Foreign Office to target young Britons travelling to Magaluf in Mallorca and San Antonio in Ibiza this summer.
TakeYourPic is aimed at holidaymakers visiting these popular youth destinations and uses social media channels on Twitter – @TYPIbiza and @TYPMagaluf – and a Tumblr page.
The campaign sets typical resort scenarios and encourages young travellers to choose between a #holidaywin and a #holidayfail. A #holidaywin might mean partying with friends and having an amazing night, whereas a #holidayfail leads to being hospitalised after drinking too much.
TakeYourPic seeks to avoid young travellers needing consular assistance. Between May and September last year, the British Consulates in Ibiza and Palma dealt with 38 hospitalisations, 170 detentions, 13 rape and sexual assault cases and 546 lost or stolen passports, all involving Britons aged between 15 and 30.
The campaign aims to help holidaymakers choose between behaviours that lead to a great holiday, or the opposite. A common #holidayfail that can easily be avoided is a lost passport: few realise the time and large costs1 involved in getting an emergency travel document from the British Consulate and then ordering a new passport after they get home, plus further expenses if a flight has to be missed or a hotel stay extended.
Dario Gutiérrez, communications director for nightclub SPACE IBIZA said:
This campaign will help people make the right choices about how to have a good time on Ibiza and go home with memories they want to keep, not forget.
Elizabeth Smith, co-owner of holiday company Feel Magaluf said:
We strongly support this campaign and we hope that young British tourists will have a lot of holiday wins during their stay in Magaluf.
HM Ambassador to Spain, Simon Manley, added:
A successful #TakeYourPic campaign will mean less pressure on the Spanish police, Guardia Civil, emergency services and their partners. It's good for British tourists and it's good for Spanish resorts. It's a win-win for everyone.
TakeYourPic is supported by familiar names in the UK and Spain including Club 18-30, Thomson 'Scene', STA Travel, EasyJet, Ryanair, Cosmos / Monarch, Liverpool Airport, Gatwick Airport, Magaluf Takeover / Mainstage Travel, Ibiza Rocks Group, Drink Aware, the Post Office, ABI, ABTA and Superdrug.
Partners in Balearic resorts include:
Magaluf: Palma Nova & Magaluf Hotel Association, Guardia Civil Calvia, Pirates, Radio One Mallorca, Feel Magaluf, BH Mallorca and Street Angels.
Ibiza: Hotel Association of Ibiza, Essential Ibiza, Ibiza Spotlight, SPACE IBIZA, Ibiza Rocks, Guardia Civil San Antonio, Guardia Civil Santa Eulalia and 24/7 Ibiza.
You can follow the campaign on @TYPIbiza and @TYPMagaluf on Twitter.
Published 20 July 2015