HMS York returns to Libya
HMS York leaves Portsmouth to return to Libya and relieve HMS Liverpool in support of NATO's ongoing Operation UNIFIED PROTECTOR.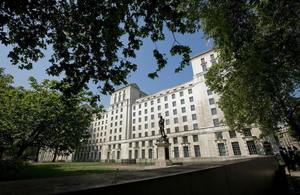 The destroyer, which played a key role evacuating civilians in the opening stages of the civil war, takes over from her sister ship which has been on patrol since April 2011.
HMS York left the Solent on Monday bound for North Africa, where eight months ago she was called upon to deliver aid to Benghazi and evacuate 43 civilians to Malta in the opening moves of the Libyan civil war.
Britain's fastest destroyer will join warships from other NATO navies in support of Operation UNIFIED PROTECTOR - just three months after returning from the South Atlantic.
The quick turnaround to deploy again put a considerable amount of pressure on the 240 members of the ship's company but, as ever, they rose to the challenge:
There was a lot to squeeze in before being waved off by families - summer leave, a major engineering package, range requalification, some upper-deck TLC [tender loving care] - and the usual trip to Devonport to see the Flag Officer Sea Training," said Warfare Officer Lieutenant Tom McPhail.
The destroyer fired her two main weapons during preparations for the return to Libya: her Sea Dart air defence missiles, which downed drone targets on the ranges off north west Scotland, and her 4.5-inch (114mm) main gun, which was let loose at the Cape Wrath gunnery range:
It's been a tough few weeks but everyone has just got on with it and made sure we were ready to take over from Liverpool," said Leading Seaman (Above Water Warfare) [LS(AWW)] Steve Austin.

We've heard all about the action she's had, especially the gunnery, so getting out there and hopefully getting amongst the action has driven everyone on.
LS(AWW) Pony More, one of the 4.5-inch (114mm) gun controllers, revelled in the chance to put down plenty of high explosive rounds. He added:
We were on the gunline for most of the day, getting called by the spotters to fire on the shore targets.

There was a lot of high explosive sent down and we destroyed everything they asked us to - it was a pretty awesome day.
As York left Portsmouth accompanied by a rousing send-off from loved ones - the ship's company could be away for up to seven months - the ship's Commanding Officer, Commander Rex Cox, said:
I am immensely proud of my ship's company who have put in a remarkable effort in preparing the ship for operations in very short order.

We deploy to the Mediterranean focused on the mission ahead and supported as always by our families and friends, who remain firmly in our thoughts.
Published 18 October 2011