HMS Westminster visits Mombasa
HMS Westminster recently visited Mombasa to train with her Kenyan counterparts and promote trade between the UK and East Africa.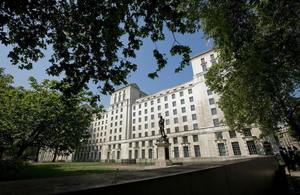 As well as exercising with local forces, the frigate was used to launch an initiative by Anglo-Kenyan authorities to keep tourists and mariners safe.
The Royal Navy's 'capital ship' has spent the past few weeks sweeping the Indian Ocean for criminal activity with her mixed team of sailors and Royal Marines from 43 Commando Fleet Protection Group - the Corps' specialists in board and search.
Of the joint exercises, Lieutenant Carl Isherwood, Westminster's boarding officer, said:
The Kenyan Navy are well-trained, well-prepared and brimming with enthusiasm. It was a delight to have had the opportunity to train with them and we have all taken something away from it.
The focal point of the warship's time in Kenya was the visit of the UK's Minister for Africa, Henry Bellingham, who hosted a group of Mombasa's business and trade leaders on board to discuss the economic development of the Port of Mombasa as a gateway for trade with East Africa.
Westminster was also used as the venue for the launch of the 'SeaSafe' initiative. This campaign will see UK authorities, through the High Commission, partner with the Kenya tourism industry and the Government of Kenya to provide useful advice to visitors, helping them enjoy the Indian Ocean safely.
Continuing the theme of forging closer ties with the Kenyans, a number of sporting fixtures were played by Westminster's sides against local opposition.
The debut match by the Westminster Warriors rugby team was a hard-fought affair against the Mombasa team, with the locals emerging victorious by 15 points to seven. The ship's netball and football teams were also put through their paces against local teams.
Also, away from the frigate, several members of the ship's company attended a memorial service for the nine Royal Navy personnel who lost their lives when HMS Brilliant's helicopter crashed near Mombasa in 1989; the Lynx was carrying crew ashore when it came down in the bush about 20 miles (32km) outside the city.
Another group visited the Coast General Hospital in Mombasa to chat with patients and distribute small gifts to a variety of delighted patients in the children's, maternity and burns wards.
Sub-Lieutenant Gez Tin said:
The hospital was extremely well-staffed with caring and attentive staff doing a tremendous job.
HMS Westminster is now once more back on patrol in the Indian Ocean conducting counter-piracy operations.
Published 16 April 2012