HMS Westminster returns from successful Middle East mission
Portsmouth-based warship HMS Westminster returned home today from a deployment to the Middle East which included a £14m drugs bust.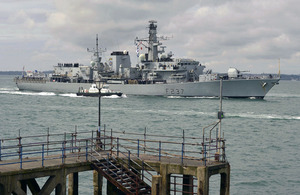 The Type 23 frigate seized more than 70 bales containing pure heroin from a dhow in the Indian Ocean.
During seven months away - clocking up more than 44,000 miles (71,000km) - the ship disrupted three groups of suspected pirates who were targeting merchant shipping and conducted security patrols in the Gulf and Indian Ocean.
HMS Westminster also paid goodwill visits across the region from Aqaba in Jordan to Dar es Salaam in Tanzania, and took part in numerous exercises with coalition and allied forces.
The ship's Commanding Officer, Captain Nick Hine, said:
I am tremendously proud of all that we have achieved. My fantastic ship's company has risen to every challenge that has been laid before them and we have had a tangible effect in making the UK's interests more secure as a result.
The ship's Merlin helicopter, which performed vital roles during the drugs bust and anti-piracy raids, performed a flypast as the ship entered Portsmouth Harbour.
In keeping with tradition the ship's company lined the upper decks for the homecoming, but a gap was left as a mark of respect for the family of missing crew member Leading Seaman Timothy MacColl.
Captain Hine added:
Clearly we are all desperately disappointed that LS MacColl remains missing and our thoughts and prayers remain with his family at this particularly difficult time.
LS MacColl went missing while on shore leave in Dubai in May. The Royal Navy remains concerned for his safety and continues to provide support for his family. The matter is being treated as a missing person case.
The Dubai Police have primacy in the investigation into LS MacColl's disappearance but the MOD and Royal Navy continue to liaise with and provide assistance to the Dubai authorities. The Foreign and Commonwealth Office also remains in contact with the Emirati police over their ongoing investigation.
Published 13 August 2012