HMS Victory to be restored
HMS Victory, the world's oldest commissioned warship, is to be returned to her former glory thanks to a ten-year restoration programme.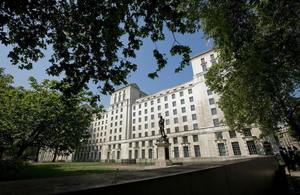 It will be the most extensive restoration of the 246-year-old warship since she was repaired after the Battle of Trafalgar in 1805.
The work will begin this month and be undertaken by BAE Systems Surface Ships at Portsmouth Naval Base under a £16m contract awarded by the MOD.
The restoration of Lord Nelson's flagship will include the ship's masts, rigging and bowsprit, and will involve replacing side planking and decayed timber with hand-fitted teak to maintain the structural integrity and unique profile of the vessel.
Captain John Newell, head of the HMS Victory support team at the MOD's Defence Equipment and Support organisation in Bristol, said:
This is a great opportunity to carry out the repairs needed to preserve the ship for the nation [for the] long term. BAE Systems Surface Ships has assembled a very experienced and world class team, and we look forward to working with them.
Vice Admiral Charles Montgomery, Second Sea Lord and Commander-in-Chief of HMS Victory, said:
HMS Victory is an icon for the Royal Navy and the nation as a whole. This restoration project will enable future generations to experience for themselves a warship that has an enduring and far-reaching effect on national and international history.
John O'Sullivan, BAE Systems Project Manager for HMS Victory, said:
This phase of restorative work is necessary to guarantee Victory's long-term future and our project team are looking forward to getting started on the job of maintaining the ship for future generations to enjoy.
The repairs will be carried out by Team Victory, which is made up of shipwrights and other specialist staff employed by BAE Systems including traditional shipbuilders, Bell Rigging, based in London, and the Gloucester-based T Nielsen & Company, who specialise in traditional wooden shipbuilding skills.
The contract has been signed for an initial five years with an option to extend for a further five, sustaining a number of jobs at BAE Systems Surface Ships and maintaining traditional shipbuilding skills in the UK.
Published 2 December 2011