HMS Talent returns from the Indian Ocean
Hundreds of people converged on HM Naval Base Devonport to welcome home Royal Navy submarine HMS Talent, which has spent seven months in the Indian Ocean.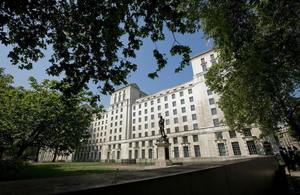 The deployment of the Trafalgar Class submarine is part of the UK's commitment to protect British interests and provide peace and stability in the Middle and Near East regions.
While deployed, the submarine conducted operations and a number of high-profile anti-submarine warfare exercises with Merlin helicopters from 820 Naval Air Squadron, American maritime patrol aircraft, Type 23 frigate HMS Northumberland and the Los Angeles Class submarine, USS Alexandria.
HMS Talent also conducted the first exercise in recent years with a submarine of the Indian Navy as part of an ongoing programme to promote closer ties with India.
In support of UK defence diplomacy and capacity-building Talent paid visits to the United Arab Emirates, India, Jordan and Crete.
Returning home, Commanding Officer of HMS Talent, Commander Simon Asquith, said:
It is great to be reunited with family and friends. We had a very busy and demanding operational deployment and my team should be very proud of what they have achieved. It is particularly good that so many of our families and friends are expected to meet us on arrival. Their unwavering support to my team has been key to our success.
The submarine will be alongside in Devonport having been at sea for over 400 of the last 600 days and will undergo essential maintenance and weapons upgrade work by Babcock Marine.
Commander Asquith added:
We are all very much looking forward to working in partnership with Babcock Marine and their highly skilled workforce on this ambitious joint project.
An upgraded Talent will emerge from Devonport next year and be ready once again to deploy globally at the forefront of Royal Navy operations if called upon.
During her latest deployment, HMS Talent sailed a total of 27,000 miles (43,500km), crossed two oceans, two seas and two of the largest Gulfs in the world (Atlantic Ocean, Indian Ocean, Arabian and Mediterranean Seas and the Gulfs of Aden and Oman).
Published 8 September 2010