HMS Sutherland's top gunners fend off French top guns
HMS Sutherland came under attack from supersonic French fighters based in Djibouti as the frigate swapped counter-piracy duties for a brief return to traditional war-fighting training.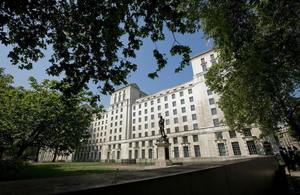 The Devonport-based frigate came under 'attack' from a pair of French Mirage jets of 3/11 Course Squadron based in Djibouti during air defence training.
At high altitude the Mirages can notch up speeds in excess of 1,500mph (2,400km/h) - more than twice the speed of sound. At low level, they're limited to a little under 690mph (1,110km/h), whereas Sutherland can get up to 39.5mph flat-out (34 knots or 64km/h) - achieved during speed trials back in 2008.
At its top low-altitude speed, a Mirage will eat up 1,012 feet (308m) every second - which gives gunners like Able Seaman Herring three seconds to react; the range of the minigun - a Gatling gun which spews out up to 6,000 rounds a minute - is a little over 3,000 feet (914m).
The training, known in military parlance as an ADEX (Air Defence Exercise), came about thanks to the personal touch; a couple of French pilots came aboard the frigate when she took a break from her patrols to take on supplies, and thus the seeds were sown for a 'workout' which tested airmen and sailors alike:
It was fantastic training for the entire ship's company - we practised our core war-fighting skills in the operations room, ship handling from the bridge, and there was battle damage overlaid to test the entire ship's company," said Sutherland's Operations Officer Lieutenant Commander Tom Westwood.

The Mirages carried out simulated missile raids and bombing attacks for an hour. Sutherland defeated each incoming raid and manoeuvred aggressively to ensure all her weapons and sensors could engage the targets.

The Mirage pilots commented on the difficulty they faced attacking the ship due to her manoeuvres and the skill of the ship's company.
They will though be back to give it another go; Sutherland intends to repeat the exercise with the French when she's next in the area.
But it's not merely the gunners aboard the ship who've been tested recently.
After a short visit to the Omani capital of Muscat, the frigate headed out into the Gulf of Oman to join US forces for a three-day submarine hunt as Sutherland and the Arleigh Burke Class destroyer USS Nitze tried to find an American hunter-killer boat lurking somewhere below.
Luckily, the Devonport-based frigate could call upon the ship's Merlin, call-sign 'Warlock', to track down the 'foe'; the helicopter is widely acknowledged in naval circles as the best there is at sub-hunting.
For the Merlin crew, who've devoted most of the deployment to maritime security and board and search operations with Sutherland's Royal Marines Commando detachment, a spot of 'pinging' was a welcome return to the helicopter's raison d'etre:
The anti-submarine exercise allowed us to refresh and refine our core and advanced anti-submarine warfare skills in challenging environmental conditions," said Merlin Flight Commander Lieutenant Earl Kingston.

It was the perfect opportunity for my team to adjust our traditional tactics - normally employed in more temperate climes - to the unique oceanography of this region.

And it allowed us to work closely with our American cousins and make use of their submarine, so we gained an insight into the different tactics they employ.
Before the exercise Sutherland and Nitze conducted a simultaneous fuel replenishment at sea with the aptly-named USNS Supply, an American fast combat support ship.
Sutherland will continue her wide-ranging mission - a combination of keeping the sea lanes open for lawful usage by mariners and working with friendly nations and navies in the region - until the year's end.
Published 21 September 2012