HMS Somerset sets sail for Horn of Africa
HMS Somerset was given a warm send-off by families and friends yesterday as she set sail from Plymouth to assist in the provision of maritime security off the Horn of Africa for the next six months.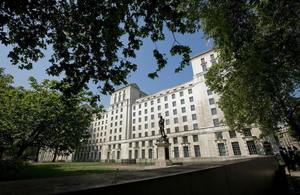 Including patrols in the Gulf, the Type 23 frigate's mission is to defend worldwide trade routes and deter threats to UK prosperity.
HMS Somerset's Commanding Officer, Commander Paul Bristowe, said:
My ship's company are well-prepared and looking forward to the challenges that lie ahead. We depart from the UK confident that we can deliver our mission to a high standard, contribute to security in our operating areas, and maintain the strong reputation of the UK and Royal Navy in the region.

HMS Somerset boasts a credible air, surface and sub-surface capability and we are fully prepared for any tasking that might arise during our forthcoming deployment.
Having completed a demanding period of operational sea training under the Devonport-based Flag Officer Sea Training organisation, the ship and her crew are at the highest level of readiness to deliver their task and a range of activity in support of UK objectives.
The ship's equipment is also in first-rate condition after an extensive maintenance period supported by the Devonport dockyard team.
The ship's preparations culminated in successful firings of her Sea Wolf point defence missile system and her main 4.5-inch (114mm) gun, which coincided with her recent families-at-sea day.
During her deployment the warship will also participate in a variety of multinational exercises and support UK strategic interests in the Middle East.
HMS Somerset is scheduled to return to the UK in February 2012.
Published 18 August 2011