HMS Somerset hosts families prior to deployment
Type 23 frigate HMS Somerset has hosted a families day at sea ahead of the ship's forthcoming deployment on operations off the Horn of Africa.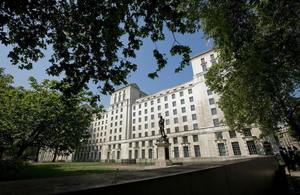 The Devonport-based warship welcomed the families of the ship's company onboard to treat them to an exciting day at sea before the sailors deploy on operations off the Horn of Africa.
The action-packed day off the south west coast included a thrilling Lynx helicopter display, and the ship turned up the volume by sending off a salvo from its main gun.
In fine weather, families and loved ones packed the frigate's upper deck to make the most of her departure from the historic dockyard of Devonport.
Once out of Plymouth, the Type 23 frigate began its programme of demonstrations with a firefighting display, firing its 4.5-inch (114mm) gun and operating with Fleet Air Arm helicopters.
As well as impressing onlookers, having the chance to test the main gun is invaluable preparation for any potential use during the deployment.
The day was particularly special for one little girl - Chief Petty Officer Kevin Williams' daughter Pippa not only celebrated her sixth birthday on board, but was delighted when the main gun sounded an appropriate six times. CPO Williams is the missile director on board who works in the operations room co-ordinating missile strikes.
CPO Williams, from Stockport, was also on board with his children, Hannah, aged ten, and nine-year-old Harry, and his wife Lynn:
Pippa had a very exciting day celebrating her birthday and I told her we fired the gun six times because it was her sixth birthday and it made her very happy," he said.
The ship's weapons engineering officer, Lieutenant Commander Paul Evans, from Plymouth, was on board with his two children, Lucy, aged nine, and Connor, aged 13. Lucy was given the rare chance to steer the ship and was told by the captain, Commander Paul Bristowe, that she drove an accurate, straight line better than him.
Connor said that he wanted to join the Navy and become a weapons engineering officer like his father.
Lieutenant Commander Evans said:
This is a great chance for my family and all the other families to see where their sons and daughters, husbands and wives, work and live. This is especially important with a six-month deployment coming up. We need our families' support and this visit reinforces the strong support we know we can rely on when we are deployed far from home.
Commander Bristowe said:
The day went very well, everybody smiling, and it is good for the families and the ship's company to have this time together before we deploy.
The ship only came back in December from the last deployment, and it has been a great achievement for a dedicated and committed ship's company to turn the ship round in order to be operational for our next deployment.

It has been tough for the families to be off again so soon but we know we can rely on their support, and today is part of showing our appreciation to them.
There was plenty of entertainment for all, including children's face-painting, and sea shanties were sung by the Fisherman's Friends band.
HMS Somerset's forthcoming deployment will see her conduct a range of operations off the Horn of Africa, providing reassurance and reinforcing freedom of navigation. She will also be available to support UK strategic interests in the Middle East.
Published 27 July 2011