World news story
HMS Protector visits Argentina
The visit will focus on scientific work and logistical cooperation with Argentina in Antarctica. HMS Protector was the first international vessel to joined the search operations of the submarine ARA San Juan.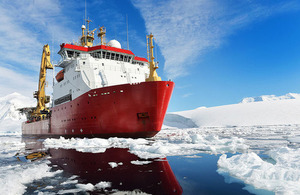 HMS Protector, the Royal Navy's ice patrol ship, will arrive this Wednesday at the port of Buenos Aires to make a three-day visit, which will be focused on scientific exploration and logistic cooperation with Argentina in Antarctica. The HMS Protector was the first foreign ship that joined the Argentine Navy to provide logistical and technological assistance during the search operations of the ARA San Juan submarine.
During her visit, HMS Protector's crew will host a welcome reception and a capability demonstration for guests from the Argentine Navy, Ministry of Defence and Ministry of Foreign Affairs. There will also be a science and logistical presentation with members of the Argentine Scientific and Antarctic specialist community.
Students from school "Instituto Fundador Don Francisco de Merlo" will visit HMS Protector. The visit will include a tour of the vessel, a description of the ships Antarctic science and logistics role and a description of its role during the search for the ARA San Juan.
Before the trip, HMS Protector's captain Matthew Syrett said that:
It is an honour for us to have been invited to Argentina and we are looking forward to sharing our experiences of working in Antarctica with the naval and scientific community.
The UK and Argentina have for many years supported each other in their respective Antarctic missions. Scientists from Argentina and UK are working together on various Antarctic projects, including the study of penguin habitats, terrestrial ecology and algology.
As the Royal Navy's Ice patrol vessel, HMS Protector is undertaking a five-year deployment in the South Atlantic and Antarctica. During this period, the vessel conducts hydrographic studies of the area to improve the safety of navigation, engages with the international scientific community of the region and supports UK and international research stations in Antarctica in the study and preservation of this unique part of the world.
The HMS Protector arrives from a visit to Uruguay and after spending four days in Buenos Aires will depart for South Africa to carry out maintenance tasks.
Published 11 April 2018