HMS Ocean begins second anti-drugs deployment in the Caribbean
Having already deployed to the Caribbean in 2007, when the amphibious assault ship made a major impact on drug smuggling by seizing illegal …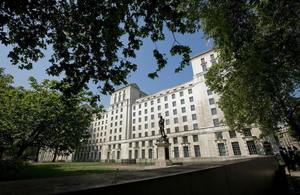 Having already deployed to the Caribbean in 2007, when the amphibious assault ship made a major impact on drug smuggling by seizing illegal cargoes of cocaine worth more than US$50m, the ship and her crew are well prepared for what lies ahead of them.
HMS Ocean will provide direct assistance to the Joint Interagency Task Force based in Key West, Florida, as the focus onboard shifts rapidly from amphibious war-fighting to maritime security.
HMS Ocean's Commanding Officer, Captain Keith Blount, said:
Maritime security is routine business for the Royal Navy, and with our helicopters, boats, hovercraft and Royal Marines, HMS Ocean is particularly well-suited to the task while still offering the ability to switch roles rapidly across the full range of maritime operations.

The fact that only last month we were conducting high-intensity amphibious exercises on the eastern seaboard is a classic demonstration of the Royal Navy's inherent versatility and the UK's ability to deploy maritime expeditionary capability around the world.
Meanwhile, our presence in the Caribbean is evidence of the UK's continued commitment to her overseas territories. Our ability to engage and work with other navies and maritime agencies worldwide is also an important element of conflict prevention and building trust.
The ship's Lynx helicopters are crucial to policing the huge area of the Caribbean. They are equipped with powerful surface-search radars and can provide airborne support with a top speed in excess of 150mph (240km/h) and a range of over 300 miles (480km), covering vast areas of the sea in a relatively short period of time.
They can be used for intelligence-gathering and reconnaissance operations as well as the disruption of any illegal activity. Members of 539 Assault Squadron Royal Marines are also onboard, with their hovercraft and high-speed offshore raiding craft.
HMS Ocean left Plymouth in June, then completed a large amphibious war-fighting exercise off the coast of North Carolina as part of the UK's Auriga naval task group.
This brought together British aircraft carrier and amphibious task groups to exercise alongside the United States Navy Kearsarge amphibious group and the 26th Marine Expeditionary Unit - a total of over 8,000 Navy and Marine personnel.
HMS Ocean was last in the Caribbean in 2007, and, with 12 members of the crew originally from St Vincent, Grenada, St Lucia, Dominica and Trinidad, her links with the region go deeper. These 12 crew members are all justifiably proud to be working closer to home and contributing to maritime security in the region although unfortunately there will not be time for them to visit their home nations.
In an uncertain world, where conflicts and natural disasters erupt without warning, the Royal Navy protects the UK's interests worldwide and provides the UK with flexible political and military choices to promote peace and security.
With highly trained and motivated personnel, the Royal Navy, together with its Royal Marines Commandos who provide the UK's elite amphibious infantry, all supported at sea by the Royal Fleet Auxiliary, is the only branch of our Armed Forces continually deployed across sea, land and air.
Published 24 August 2010