HMS Northumberland sails for Middle East deployment
Royal Navy warship HMS Northumberland has sailed from Plymouth for an eight-month deployment to keep shipping lanes open east of Suez.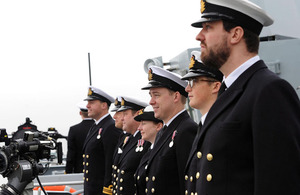 The Type 23 frigate will relieve sister ship HMS Sutherland following a short period training with the Response Force Task Group (RFTG) on Cougar 12.
Under Cougar, which is led by fleet flagship HMS Bulwark, Royal Navy warships, Royal Marines commandos and naval airpower will be training with French and Albanian maritime forces.
Midway through this exercise, Northumberland will depart the RFTG and proceed to the Middle East and Indian Ocean.
HMS Northumberland's Commanding Officer, Commander Paddy Dowsett, said:
My ship's company is keen to get going on this demanding mission.
It takes a tremendous amount of personal and professional commitment to regenerate a warship ready for operations and I am extremely proud of my ship's company for the work they have done in getting us to this point.
The ship's company is rightly excited about the deployment and we are all committed to it being a success.
HMS Northumberland has come through an extensive nine-month period of regeneration, including refit, trials, numerous capability upgrades and an intensive operational sea training programme, to prepare her and her ship's company for what lies ahead.
Northumberland is now poised for a challenging deployment in which she will be acting as part of the Royal Navy's standing commitment in the Middle East, providing reassurance to the UK's allies in the region, policing busy shipping lanes and carrying out maritime security and counter-piracy patrols.