HMS Montrose welcomed home from South Atlantic
A rapturous welcome greeted the ship's company of Royal Navy frigate HMS Montrose on Friday, 11 May, on their return to Plymouth from a six-and-a-half-month deployment to the South Atlantic.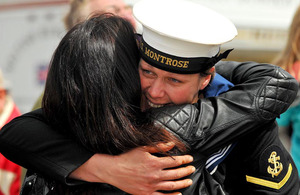 The ship sailed into HM Naval Base Devonport to a seven-gun salute from 29 Commando Regiment Royal Artillery at the Plymouth Citadel, and was met by a crowd of over 700 cheering families and friends and Plymouth's Royal Marines Band.
The ship was returning from flying the flag as a significant reassuring naval presence to the UK's Overseas Territories as the Atlantic Patrol Task (South) ship, protecting and promoting UK interests in the South Atlantic Ocean.
Among the crowd on the jetty, waiting for her father, Warrant Officer (WO) Glen Harris, was eight-week-old Jade White, who was born during the ship's deployment. She was in the arms of her mother, Tracey White, until scooped into the arms of WO Harris as he stepped off the ship:
It is lovely to see Jade again," he said. "She was only two weeks old when I left her. I was allowed to fly home from South Africa for the birth, but it was hard to tear myself away again. She has grown in six weeks and looks very well.''
Leading Steward Jason Bradshaw was overwhelmed by the welcome he got from his extended family, including nieces, nephews, brothers and sister, girlfriend Celia, and his mum and dad. Celia said:
It's a true family welcome. It's fantastic to see Jason again. I have been counting every day down since he left.
Leading Seaman Matthew Gibson was hugged on the jetty by his wife Jo and their children Emily, aged 20 months, and William, six months. Jo said:
It's been hard work bringing up two young children. Matthew was allowed to stay behind to see William born. It's great to have him back.
Leading Seaman Sean Starkie was greeted by his wife Kerry and their first child Jessica, aged four months:
It was so important for me to see Jessica born before joining the ship on deployment," he said, "but I could not wait to see her again. She has grown a lot. The deployment was also very good, with highlights being New Orleans and seeing the basketball and the cricket in Bermuda.
The ship's Commanding Officer, Commander Jonathan Lett, said:
Having navigated over 35,000 nautical miles [65,000km], patrolled in three oceans, visited five continents and six British Overseas Territories, there is a real sense of achievement amongst my ship's company. From the frozen wastes of the South Sandwich Islands to the tropical paradise of Bermuda we have faced some significant challenges but the team can be justifiably proud of a job well done.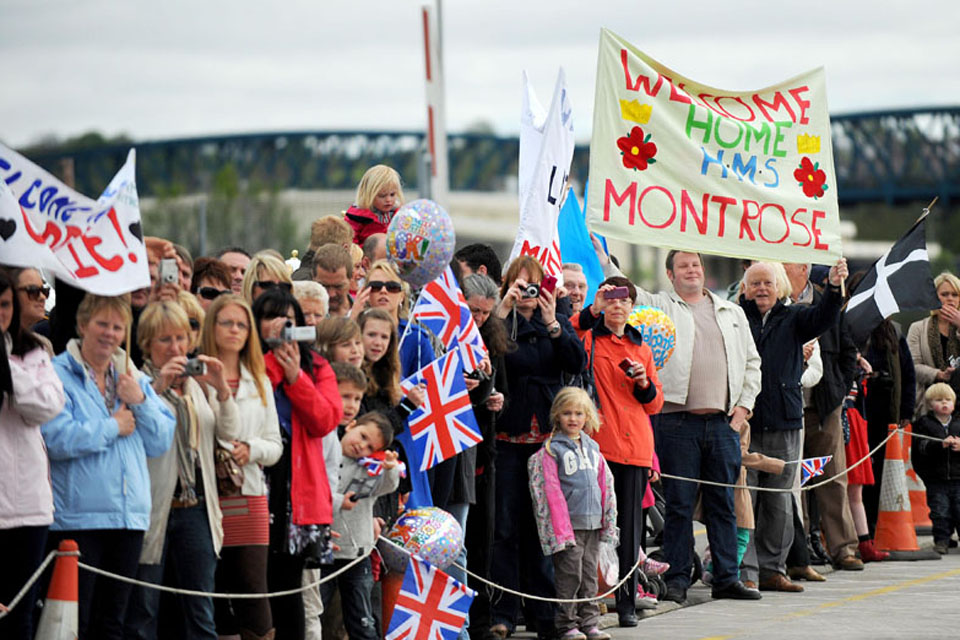 My ship's company are clearly glad to be home and back with their families after six-and-a-half months away. I am fully aware that much of what we achieved would not have been possible without the support of our loved ones.
After a long deployment it is vitally important that everyone has the opportunity to take leave, spend time with their families and friends, and essentially recharge their batteries in advance of the next challenge.
HMS Montrose deployed on 24 October last year, waved off from Devil's Point by nearly 200 family members and friends who had braved the late autumn weather. Since then, she has travelled 35,336 nautical miles and visited 13 different ports. She has also navigated in and around interesting locations, including rounding Cape Horn, patrolling sub-Antarctic islands until blocked by ice, and then, finally, transiting the Strait of Magellan and the Panama Canal.
Of the United Kingdom's 14 remaining overseas territories, HMS Montrose stopped at six: Ascension Island, St Helena, the Falkland Islands, South Georgia and the South Sandwich Islands, Tristan da Cunha, and most recently Bermuda; a record matched by few ships in recent years.
On Ascension Island 30 sailors completed the 'Dew Pond Run'. One of Runner's World magazine's '20 runs to do before you die', this arduous seven-mile (11km) course takes runners from sea level to the summit of Green Mountain, and is certainly not for the fainthearted. And HMS Montrose was the first Royal Navy warship in six years to visit St Helena which can only be reached by sea.
During the ship's visit to New Orleans to mark 100 days to the start of the 2012 Olympic Games in London and to take part in the commemoration of the War of 1812, sailors conducted a 100-metre dash along the jetty. Alongside ships from the USA, France and Canada, as well as tall ships from Ecuador, Indonesia and the US Coast Guard, Montrose opened herself up to some 2,300 visitors over the course of a week and her sailors were welcomed both ashore and by the other participating navies.
In the Falkland Islands, the crew visited residents, learned about the wildlife and voluntarily renovated war memorials prior to conducting services of remembrance. The journey down to South Georgia and the South Sandwich Islands was one of the most memorable parts of the whole deployment.
Commander Lett said:
South Georgia and the South Sandwich Islands are some of the most unique and beautiful places on earth. The variety of wildlife and harshness of the environment combine to ensure that no-one who has visited will ever forget the experience. It is also important for those who are resident on the islands to know that we can and do reassure them of our presence and that they are not forgotten in such a remote location.
HMS Montrose was away during Christmas and Easter but that did not prevent the crew from doing their best to mark the occasions in traditional style.
During the deployment, four babies were born to crew members and two of the crew became engaged. The ship burnt about 2,703 tonnes of fuel - enough to fill 53,000 family cars, and the ship's company consumed 56,452kg of food, in the form of 111,120 meals, and received 670 sacks of mail - over three sacks for every sailor on board.
Major Jon Cresswell from 29 Commando Regiment Royal Artillery said:
It is with great pleasure that once again we are able to welcome our affiliated frigate and colleagues from HMS Montrose back after their challenging deployment to the South Atlantic.
Firing a salute to HMS Montrose across the waters of Plymouth Sound is always a brilliant spectacle for the city of Plymouth. We very much look forward to welcoming HMS Montrose home as part of our larger regimental family in this very special year where we celebrate our fiftieth anniversary as Commando Gunners and look forward to the ship's company joining the party.
The crew will now have a much needed period of leave and the ship will undergo an intensive maintenance package before returning to operational duties later in the year.
Published 15 May 2012