HMS Montrose celebrates 20th birthday
Celebrations have been held on board HMS Montrose as the Royal Navy warship marks her 20th birthday.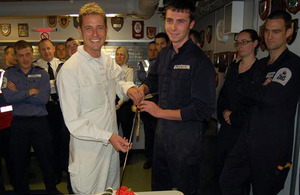 The Type 23 Duke Class frigate was launched at Yarrow shipbuilders on the Clyde 20 years ago and her crew decided to celebrate that fact with a personalised birthday cake and a rousing rendition of 'Happy Birthday'.
The mini-party took place on board the ship which is currently docked at Devonport Naval Base.
Montrose's logistics department created the cake which was then cut with a naval ceremonial sword by Warrant Officer Class 2 Chats Harris and Engineering Technician (Marine Engineering) Nick Pearce.
Warrant Officer Harris is also celebrating as he has served 23 years in the Royal Navy, while Engineering Technician Pearce was 20 years old in March and therefore is the sailor on board closest to the age of the ship.
16 of the crew were not even born when the ship was launched in 1992 by Lady Rifkind, wife of the then Secretary of State for Defence, Sir Malcolm Rifkind.
Although this class of frigate was designed primarily for anti-submarine warfare, the ship is now designated as a general purpose frigate and is fitted with a broad suite of the latest sonar, radar and communications systems.
HMS Montrose carries a Lynx helicopter and the Sting Ray torpedo, air defence is provided by a vertical-launch Sea Wolf missile system, and surface armaments include the Harpoon missile and her 4.5-inch (114mm) gun for naval fire support.
In May, HMS Montrose and her company returned from a six-and-a-half-month deployment to the South Atlantic, during which she maintained a continuous presence protecting British interests.
Published 3 September 2012