World news story
HMS Lancaster visits Barbados for Independence celebrations
HMS Lancaster's visit to Barbados signals the return of the Royal Navy warship to the Caribbean region.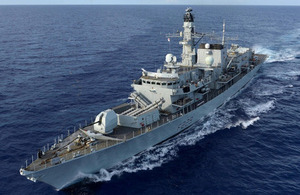 Patrolling in tandem with the supply ship RFA Wave Knight, HMS Lancaster has offered countries in the region humanitarian support and disaster relief, as well as assistance in the war on narcotics trafficking, demonstrating the Royal Navy's continued commitment to the region.
Lancaster arrives in Barbados, the last of her formal visits to Caribbean countries, on 27 November 2013. One of the Royal Navy's Type 23 frigates, Lancaster will berth in Bridgetown, Barbados, and whilst there will take part in the Island's Independence celebrations marking the 47th year of independence.
Key personnel from the ship will meet with officials from Barbados to discuss what capabilities the ship can offer whilst in the region. An official reception will be held on board where people can learn what Lancaster can offer in terms of humanitarian aid and disaster relief.
Lancaster will also be sending some of her sailors to help with the refurbishment of a widowed World War II veteran's house.
HMS Lancaster's Commanding Officer, Commander Peter Laughton MBE, said: "It is a great honour and a privilege for me to be able to bring Lancaster to Barbados especially as we are being asked to take part in their Independence Day celebrations. Barbados has a long and cherished history with the UK and the Royal Navy and I am look forward to renewing friendships, making new ties and supporting the people of Barbados in any way we can."
Published 26 November 2013