HMS Iron Duke sets sail for the Gulf
Crowds of families and friends waved off Portsmouth-based warship HMS Iron Duke today as she left for a six-month deployment to the Gulf.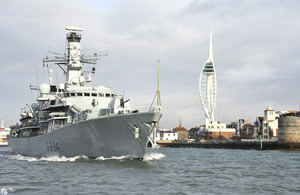 It will be the first time the 4,900-tonne Type 23 frigate has been deployed to the region, where she will be patrolling busy shipping lanes and providing security alongside members of the Gulf Cooperation Council and other coalition navies.
Her work will include counter-terrorism and anti-piracy operations in the Gulf of Aden, the protection of Iraq's oil platforms, exercises and operations with regional naval forces, and wider regional engagement to promote and support the UK's interests in the area.
HMS Iron Duke's recent deployments have been to the Atlantic and Caribbean, where she enjoyed significant success in counter-narcotics operations, most notably in 2009 by making the largest cocaine seizure in Royal Navy history - 5.5 tonnes with a street value of £240m.
Since that operation HMS Iron Duke has spent a year in UK waters, conducting maintenance and training the ship's company in preparation for this deployment.
HMS Iron Duke's Commanding Officer, Commander Nick Cooke-Priest, said:
My ship's company is prepared and looking forward to this challenging and diverse deployment to the Middle East.
Iron Duke's capabilities are perfectly matched to the likely tasks and operations we will undertake, and we sail confident of making a tangible and worthy contribution to security and stability in the region.
Published 10 January 2011