World news story
HMS Iron Duke pays visito to Haiti
Royal Navy warship HMS Iron Duke is to arrive in Haiti on 23 November while on her return from a six-month deployment of the South Atlantic.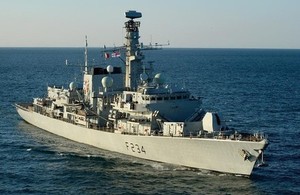 The Type 23 frigate will arrive at the port of Cap Haitien for 2 days where she will host local dignitaries at a reception and demonstrate the warship's capabilities. Her sailors will also take part in local outreach projects to assist the community and challenge a local Haitian football team to a match.
The Commanding Officer of HMS Iron Duke Commander Tom Tredray said: "During our short visit to Haiti, I know that the Ship's Company are particularly keen to assist with the Outreach Project which should make a real difference to the local community.
"It has been a long time since a Royal Navy Warship last visited Haiti and we will be firing a 21 gun salute when we arrive to mark the occasion."
The visit is part of the ship's wider regional engagement with UK partner nations in Africa and the Caribbean following her recent work in the South Atlantic to maintain the continuous Royal Naval presence in the region.
HMS Iron Duke deployed from her home port of Portsmouth in June with a brand new 3D radar – known as RT997 – as well as an updated missile system and IT system. She also has a Lynx Mark 8 helicopter embarked – a highly versatile aircraft that can support the ship with an aerial fighting force as well as provide casualty evacuations, spotting pirates and illegal fishing as well as routine work such as transferring stores.
She is due to return home in December.
Published 21 November 2014