World news story
HMS Iron Duke pays visit to Barbados
Royal Navy warship HMS Iron Duke is to arrive in Bridgetown, Barbados on 28 November while on her return from a six-month deployment in the South Atlantic.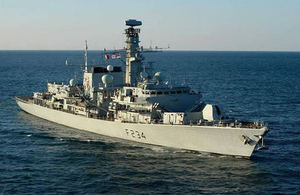 The Type 23 frigate will arrive at the port of Bridgetown where she will host a reception and demonstrate the warship's capabilities. Her sailors will also take part in sporting activities, playing rugby and football against local teams.
The Commanding Officer of HMS Iron Duke Commander Tom Tredray said: "The visit to Bridgetown has been eagerly awaited by the Ship's Company. It offers a great opportunity for the crew to relax and enjoy a short rest from her operational duties before completing the final leg of our return journey back to the UK. I know that the football and rugby teams are also keen to take to the pitch for the last time on this deployment."
The visit is part of the ship's wider regional engagement with UK partner nations in Africa and the Caribbean following her recent work in the South Atlantic to maintain the continuous Royal Naval presence in the region.
HMS Iron Duke deployed from her home port of Portsmouth in June with a brand new radar – known as RT997 – as well as an updated missile system and IT system. She also has a Lynx Mark 8 helicopter embarked – a highly versatile aircraft that can support the ship in a number of different roles, from casualty evacuations to spotting pirates and illegal fishing.
She is due to return to the UK in December.
Published 28 November 2014