HMS Iron Duke in medical mercy dash
Royal Navy frigate HMS Iron Duke raced to the aid of a badly injured sailor in the Gulf of Oman after receiving an urgent distress call from a Korean fishing vessel.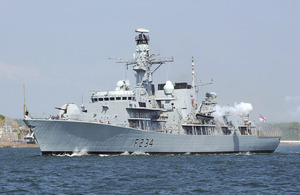 HMS Iron Duke was the closest coalition warship to the MV Golden Lake when the call came through that a fisherman on board had been left unconscious with facial injuries after a wire came loose and struck him in the face.
After establishing that the casualty needed urgent medical treatment, the Portsmouth-based frigate rapidly crossed the 170 miles (274km) to the vessel.
On arrival they dispatched the ship's doctor, Surgeon Lieutenant Mike Robinson, and an escort of Royal Marines in a rigid inflatable boat, with Iron Duke's Lynx helicopter 'Charger' from 815 Naval Air Squadron overhead in support.
Once on board, Surgeon Lieutenant Robinson treated the man's wounds and stabilised him enough to give the MV Golden Lake time to transport him to the nearest port for further medical treatment.
Commander Nick Cooke-Priest, Iron Duke's Commanding Officer, said:
Assisting those in distress is second nature to seafarers where mutual support is such a key tenet of our environment.
I am pleased that Iron Duke was able to help on this occasion and I hope the injured fisherman makes a full recovery.
The Commander of the Republic of Korea Task Force, Captain Cho Young-joo, thanked Iron Duke for her help:
I would like to convey my sincerest appreciation for all the support you have provided," he said.
I fully recognise that the matter could have been exacerbated if an immediate response from Iron Duke was not received.
HMS Iron Duke is a month into a seven-month deployment in the Gulf and is part of Combined Task Force (CTF) 150 - one of three maritime task groups. Her mission is to promote secure and safe seas and counter terrorist acts and illegal activities.
A unique naval partnership based in Bahrain, CTF 150 consists of 25 member nations which contribute ships, aircraft and personnel in support of the mission, which spans 2.5 million square miles (6.5 million square kilometres).
Published 9 February 2011