HMS Iron Duke honoured for efficiency on operations
HMS Iron Duke has been awarded for her efficiency and effectiveness on operations in the Gulf and off Libya.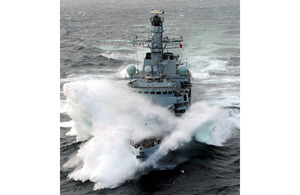 Rear Admiral Peter Hudson, Chief of Staff (Capability), presented the commanding officer and ship's company with the 2011 Frigate Efficiency Trophy and pennant and the 2011 Anti-Submarine Warfare Effectiveness Trophy in a ceremony on board the ship in Portsmouth.
HMS Iron Duke, a Type 23 frigate, returned on a high from operations in July 2011 having spent almost seven months east of the Suez Canal.
On leaving Portsmouth in January 2011 her duties included working with other navies to combat smuggling and human trafficking in support of counter-terrorism.
She then sailed to the Gulf on maritime security operations where she patrolled the Al Basrah Oil Terminal.
The last part of her deployment saw her providing naval gunfire support to operations off the coast of Libya.
For three consecutive nights HMS Iron Duke used her awesome firepower capabilities to destroy a gun battery outside the besieged city of Misurata and fired star shells into the night sky to illuminate pro-Gaddafi positions for NATO aircraft to destroy rocket launchers, fuel dumps, ammo stores, artillery batteries and command and control centres.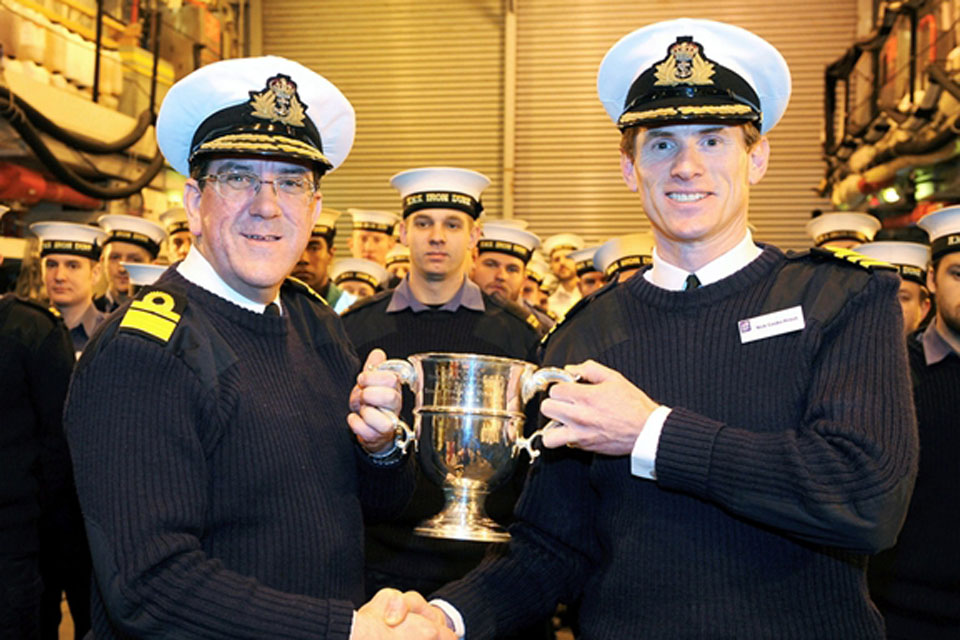 HMS Iron Duke's Commanding Officer, Commander Nick Cooke-Priest, said:
This award reflects the dedication, pride and professionalism of a ship's company who gave everything to every one of many tasks, from training to combat operations, and who achieved total success in 2011.
This award is testament to the exceptional performance of the officers and the men who served in HMS Iron Duke last year.
Recipients of the annual award get to fly the Surface Flotilla Efficiency Flag when entering and leaving harbour and whilst alongside in UK and foreign ports.
Published 7 March 2012