World news story
HMS Illustrious visits Dublin
The Royal Navy aircraft carrier HMS Illustrious visited Dublin from Friday 26 April 2013 to Monday 29 April 2013.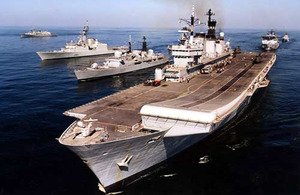 "Lusty" as she is affectionately known berthed at Dublin's Alexandra Docks at midday on Friday. The ship's Commanding Officer Captain Martin Connell welcomed guests to a reception that evening; they were entertained with a performance by dancers and musicians from Ragus.
Her arrival in Dublin coincided with "the Gathering." It is not clear if any Irish steel was used in her construction, but two sailors were presented with Certificates of Irish Heritage.
Captain Connell, said:
We are really delighted to be visiting Dublin, especially during the period of the Gathering.
To mark her visit to Ireland during the Gathering, HMS Illustrious was floodlit in green. Captain Connell explained that they had been kindly donated.
Niall Gibbons, CEO Tourism Ireland said:
We are delighted to welcome the HMS Illustrious to Ireland and are sure that we will give the Company of 700 sailors on board a wonderful Irish welcome during their stay.
See some photos, courtesy of Ruth McKenna & Patrick H Lynch, on our Flickr Gallery
The 23,000 tonne helicopter carrier has just completed a major multi national warfare exercise off the coast of Scotland. She called into Dublin to allow almost 700 crew some time off before returning to her home in Portsmouth the following week.
Published 1 May 2013