HMS Illustrious returns to Portsmouth after upgrade
Helicopter and commando carrier HMS Illustrious returned to her Portsmouth home yesterday after completing a £40m maintenance and upgrade programme in Scotland.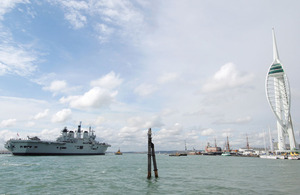 The 22,000-tonne ship, affectionately known as 'Lusty', was in the Rosyth dockyard in Fife for 16 months where she underwent modifications to turn her into a helicopter and commando carrier capable of carrying a force of up to 20 helicopters and 600 fully kitted-out personnel.
Since leaving Rosyth on 18 June 2011, Illustrious has been undergoing sea trials off the UK coast. She will carry out further tests off the south coast before returning to the Royal Navy fleet at the end of this month.
The ship was greeted by about 300 families of the ship's company on her arrival at the base.
Her Commanding Officer, Captain Jerry Kyd, said:
It is a great honour and tremendously exciting to bring this famous carrier, HMS Illustrious, back to her home port of Portsmouth.
My magnificent crew have worked for many months away from family and friends, some for 18 months, and our return today is testament to their characteristic professionalism and commitment.
The ship was fortunate to have had an excellent engineering refit with Babcock in Rosyth, and, yet again, our return to Portsmouth, on time and on budget, shows how the Royal Navy and British industry can work so successfully together to a common purpose.
We formally rejoin the fleet at the end of this month, and I know I speak for all the men and women in Lusty when I say that we are looking forward greatly to meeting whatever challenges the Government sets us in the coming years.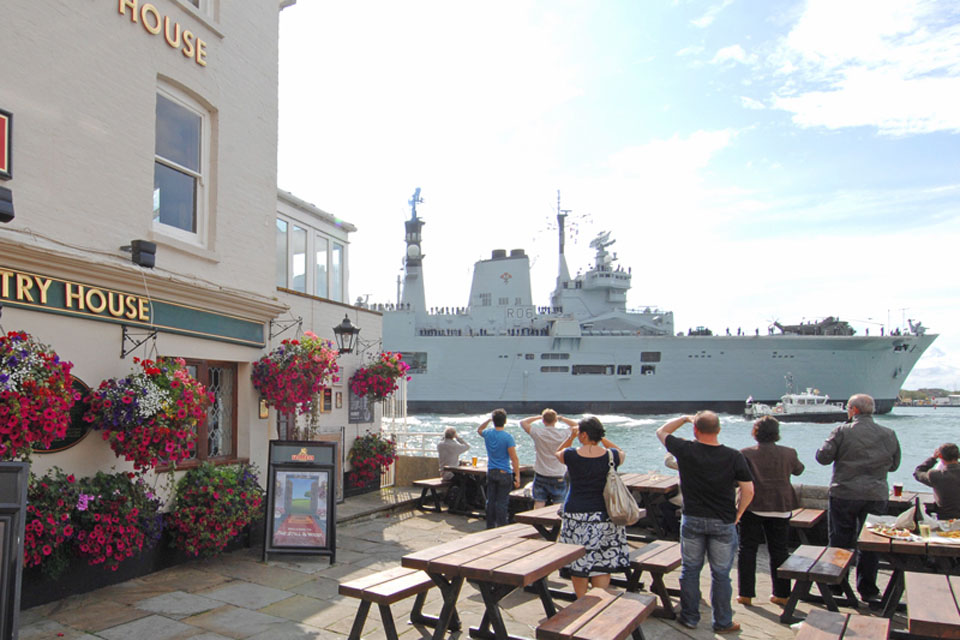 Lusty's workout since leaving Scotland included full power trials which have tested the engines and propulsion. Weapons systems have been test-fired, and communications, radars and computer systems have all been put through their paces.
She also welcomed helicopters of the Fleet Air Arm back to the flight deck, testing the ship's aircraft facilities.
HMS Illustrious has also started on the comprehensive training package necessary for the 600 sailors on board.
Exercises to test the whole crew's reactions to emergencies such as fires and floods have been a vital part of the trials period that will now intensify as the ship prepares for operational sea training and any possible tasking in the future.
The refit work carried out by a partnership of Babcock Marine, the ship's company, MOD and BAE Systems included:
applying 540,000 litres of paint to the ship, including a fuel efficient outer hull coating that will save tonnes of fuel and CO2 emissions over her remaining life
other improvements that lower the ship's environmental impact, including reverse osmosis fresh water-making systems
installation of a new computer and communications system and a defensive anti-torpedo system
improvements to the living conditions for the crew and any embarked troops.
HMS Illustrious is the second of three Invincible Class light aircraft carriers built for the Royal Navy in the late 1970s and early 1980s. She is the fifth warship and second aircraft carrier to bear the name Illustrious.
She will assume a helicopter and commando carrier role while HMS Ocean undergoes a planned refit, which is due for completion by 2014. Illustrious will then be withdrawn from service.
Published 8 July 2011