HMS Daring makes first port visit to Saudi Arabia
One of the Royal Navy's most advanced warships, HMS Daring, has made an official stop in Saudi Arabia to reinforce the country's strong relationship with the UK.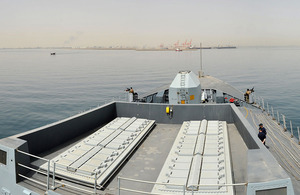 The Portsmouth-based Type 45 destroyer is on her first operational deployment in the Gulf where she is working with partner nations, including Saudi Arabia, to disrupt drug smuggling, trafficking and piracy in the region.
The port visit to Al Jubayl provided a good opportunity to host 200 selected guests and VIPs so HMS Daring could display her impressive capabilities as an air defence warship.
Helping to reinforce the good working relationship that exists between the UK and Saudi Arabia, both of which are committed to the fight against global terrorism, the visit also emphasised the strong military bond between the two countries.
The United Kingdom Maritime Component Commander, Commodore Simon Ancona, who was in the country for an official visit, also attended as the senior Royal Navy officer.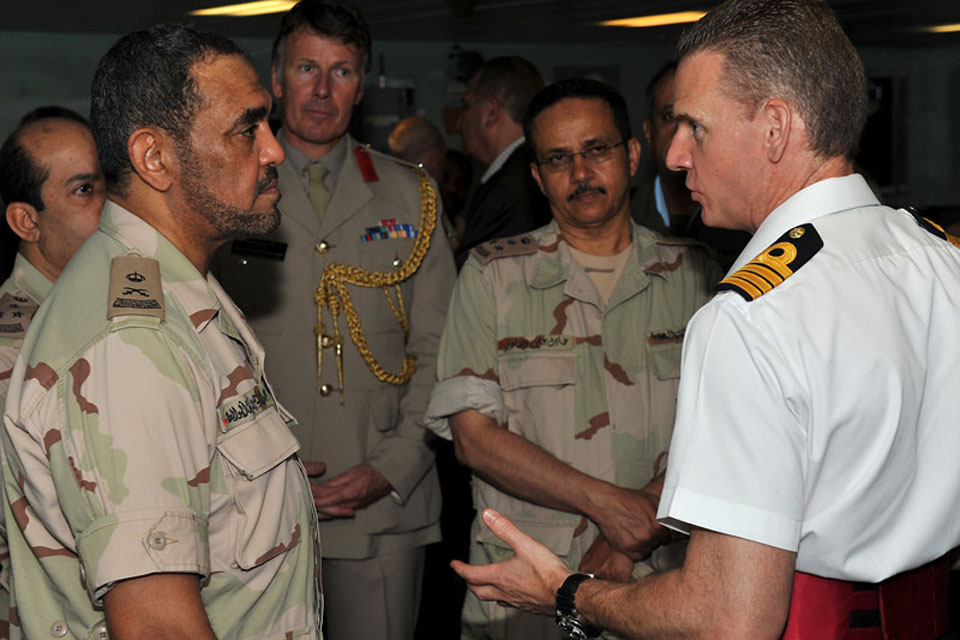 Commanding Officer of HMS Daring, Captain Guy Robinson, said:
It was a great privilege for me to take HMS Daring alongside in Al Jubayl for the first time. The visit provided an excellent opportunity to build on the strong relationship between the United Kingdom and Saudi Arabia.
They make a very significant contribution to fighting terrorism in the region while being a trusted naval partner. This visit to Saudi Arabia was a first for me and a large number of my ship's company and it was a welcome break in a busy period working with Combined Maritime Forces.
The tried and tested mutual bonding over a sporting match also took place with Daring's rugby team beating local side the Al Khobar Quins 36-5. Around 30 senior Saudi naval personnel were also given tours of the ship as well as 50 local schoolchildren.
Lieutenant Thomas Wyatt, who helped host the tours, said:
It was great to be able to show the Saudis our ship. It is always really useful to show our allies and partners in the Gulf our capabilities. However it is always a pleasure to show a group of enthusiastic schoolchildren around as well.
Ships working as part of the Combined Maritime Forces (CMF) are tasked with a range of activities including sea security, counter-piracy, and maintaining stability in the region.
CMF are also ready to respond to any environmental or humanitarian crisis and are specifically committed to defeating violent extremists, thwarting piracy, reducing illegal trafficking of people and drugs, and promoting the maritime environment as a safe place for mariners with legitimate business.
Published 17 May 2012