World news story
HMS Daring in Australia for International Fleet Review
A large British presence is in Sydney for the celebration of 100 years since the Australian Navy first entered Sydney Harbour.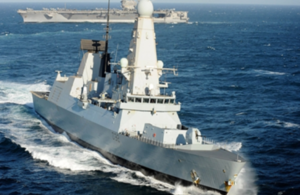 The British delegation is led by the Royal Navy's Type 45 Destroyer HMS Daring, UK Minister for International Security Strategy Dr Andrew Murrison MP, First Sea Lord, Admiral Sir George Zambellas and David Hatcher, Regional Director Australasia and Asia, UK Trade & Investment Defence and Security Organisation. Also in Sydney is Her Majesty's Royal Marines Band, here to help celebrate the Navy's Centenary.
The British tall ship, the Lord Nelson, is in Sydney too as part of the 17-strong International Tall Ship Festival. The tall ships withstood blustery weather to enter Sydney Harbour on Thursday as part of the IFR celebrations. The Lord Nelson is owned by the Jubilee Sailing Trust and is the first tall ship to have been designed and built to be equally accessible to both physically disabled and able-bodied sailors. It is in Australia as part of an epic round the world voyage taking in 30 countries and 7 continents.
HMS Daring
HMS Daring sailed from Portsmouth in May for a nine-month deployment in what is the first major deployment by a ship of this class to the southern hemisphere and to Australia. The Daring Class destroyers are the UK's newest and most technologically advanced warships. The programme will include visits to a dozen Asia Pacific states.
HMS Daring will be open to the public on 6-7 October at Barangaroo.
Dimensions and Complement:
Length overall 152.4m
Beam 21.2m
Draught 7.4m
Displacement 8000 tonnes
Complement 190
Royal Marines Band
The Royal Marines Band is considered one of the world's premier military bands, renowned for precision marching and versatile musicianship.
The band will perform at Sydney's Capitol Theatre on October 9 for one night only, with tickets starting from $49.00. Details at Ticketmaster
International Fleet Review:
For more information, visit the International Fleet Review website
Published 4 October 2013