World news story
HMS Daring arrives to boost UK-ROK defence ties
Royal Navy destroyer HMS Daring has arrived in Busan for a three day visit to the Republic of Korea.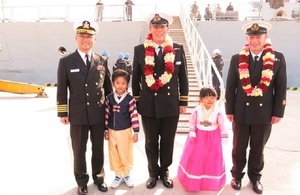 Royal Navy destroyer HMS Daring has arrived in Busan for a three day visit to the Republic of Korea.
The Type-45 class vessel is undertaking a pre-arranged visit to the region after contributing to aid relief efforts in typhoon-hit parts of the Philippines.
The visit is a significant landmark in the growing defence relationship between the UK and Korea and comes on the back of the visit of two Korean Navy ships to the UK this September.
As part of the visit, Commanding Officers from 815 Naval Air Squadron (Royal Navy) and 627 Naval Helicopter Squadron (ROK Navy) will sign a Memorandum of Understanding (MoU) on the operation of Lynx helicopters. Both sides have clear mutual interests in such operations. The MoU will promote further cooperation and establish a framework for squadron interaction and reciprocal exchange of maritime aviation information.
Admiral Sir George Zambellas, First Sea Lord and Chief of Naval Staff, arrived in Korea yesterday and will join HMS Daring's 220-strong crew for the visit. Speaking before the ship's arrival, Admiral Zambellas said:
I am delighted to be here to coincide with HMS DARING's visit to the Republic of Korea. This 60th anniversary year of the Korean War Armistice reminds us of the enduring defence partnership between our two countries – one which has made further great strides in recent years. With our navies already operating together in the Gulf as well as in the Asia-Pacific region, I warmly welcome this opportunity to share our ambitions for even closer cooperation in the future.
Welcoming the visits by the First Sea Lord and HMS Daring, Admiral Hwang Ki-chul, ROK Navy Chief of Naval Operations said:
This is a significant visit by the First Sea Lord and HMS Daring following our Naval Ships visit to the UK. I hope to develop further strengthened cooperation between two countries in the areas of counterterrorism, antipiracy and mutual development as well as increasing the defence equipment cooperation.
This evening, HMS Daring will be the venue for a high-profile gathering of senior figures from military, civil and political society.
During the three day visit, she will also play host to a Defence and Security Industry Day where leading British companies will exhibit their latest technology.
The ship is also scheduled to participate in a trilateral naval exercise with the Republic of Korea and United States of America.
HMS Daring was launched on the River Clyde in Scotland in 2006. She was formally commissioned in July 2009 and sponsored by Her Royal Highness The Countess of Wessex.
Published 5 December 2013